Popcorn is a delicious treat for humans, best enjoyed during a night spent watching your favorite movies from the comfort of the couch. But can your dog partake in enjoying popcorn?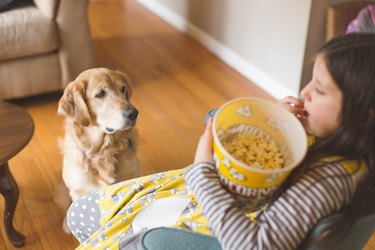 Where does popcorn come from?
While we don't know definitively about the first ever instance of humans eating popcorn, there is evidence of popcorn dating back thousands of years. In 1948, Herbert Dick and Earle Smith discovered small heads of zea mays everta (the kind of corn that is used for popcorn) in a cave in New Mexico, as well as several popped kernels. The artifacts were carbon dated and estimated to be 5,600 years old. There is also evidence of ancient popcorn consumption in Central and South America. In 1885, the first large-scale commercial popcorn machine was invented by Charles Cretors. Now, popcorn is a ubiquitous snack at public events as well as inside the home.
Can dogs eat popcorn?
Popcorn may be a quick and satisfying treat for you, but it may cause serious harm to your dog. Even without the seasonings that can make your dog sick, popcorn might get stuck in your canine's throat and block his airway. Each dog is different, so talk to your vet about what is safe for your dog given his size, age and activity level. In general, it is not safe to feed popcorn to your dog, even though corn itself is not toxic to dogs.
What are the risks of feeding popcorn to your dog?
Popcorn is a choking hazard
If you want to make sure your dog is safe, settle in for the evening with a few dog treats on hand to give him while you keep the popcorn for yourself. The ASPCA says unbuttered, unsalted popcorn is not known to be harmful, however, popcorn poses a choking hazard. If you do feed your dog popcorn, give him only fully popped, unseasoned kernels. Call your vet immediately if you think he might be choking.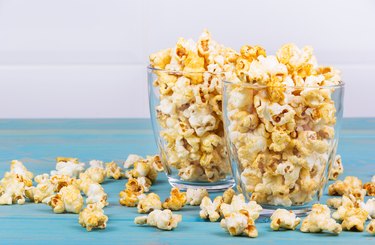 Salt and dairy are dangerous for dogs
Butter, salt and other common popcorn seasonings can cause serious health problems for your dog. The ASPCA says that large amounts of salt can cause sodium ion poisoning and onions, chives and garlic are all toxic to dogs. Milk-based products can cause digestive upset.
Conclusion
Even though corn itself is not toxic to dogs, dogs should not eat popcorn because it's a choking hazard, and because salt, butter and other common popcorn seasonings are harmful to dogs. It's better to safe the popcorn for yourself and give your dog some dog treats.
Always check with your veterinarian before changing your pet's diet, medication, or physical activity routines. This information is not a substitute for a vet's opinion.