Injury can cause black tongue in cats, but it is most commonly caused by a problem with a cat's immune system resulting from an infection. The literature suggests that black tongue can result from a specific agent, such as an injury or burn. Anecdotal evidence suggests that black tongue most likely is the result of a toxoplasmosis infection caused by parasites.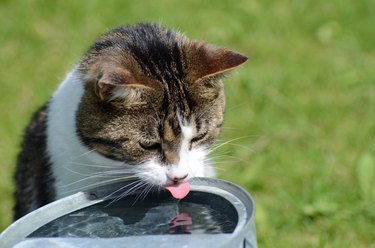 Eliminate possible burn sources
Eliminate burns or caustic materials as a possible cause of your pet's black tongue. Are there open containers of chemicals or other toxins near your pet's environment? Are you missing any pills or are there any spilled powders nearby? If so, take your pet to the veterinarian as soon as possible. Examine your pet's area for any chewed or frayed electrical cords. An open light source near your pet's area might indicate a tongue burn.
Yeast infections can cause black tongue in cats
Yeast infections are most commonly caused by the fungus Candida albicans, according to the Merck Manual. Though candidiasis in cats is rare, it is associated with eye lesions, upper respiratory disease, infection in the space between the lungs and chest wall, oral disease, bladder infections, and intestinal disease..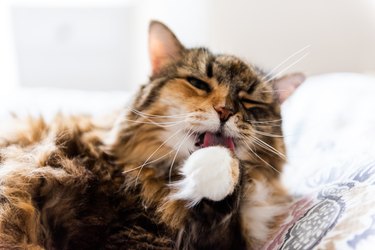 The use of catheters, the use of immunosuppressive medications or antibiotics, injury to the mucus membranes, and disease predispose a cat to yeast infections. Signs of a possible yeast infection in cats are generally nonspecific and may vary from one cat to another. Yeast infections can affect a cat's skin or ears. If you suspect your cat has a yeast infection, take him or her to the veterinarian for a proper diagnosis and treatment plan.
Try yogurt for yeast infections
If your cat has a black tongue as a result of a yeast infection, you might want to try adding a little plain yogurt to your cat's food until the yeast infection clears up. Alternatively, your cat may enjoy plain yogurt in a dish on its own.
Sometimes, the overgrowth of yeast is the result of an imbalance between good and bad bacteria in the cat's gut. Yogurt can help rebalance the bacteria in the cat's gut. Your vet might also prescribe miconazole for your cat's yeast infection. Most cats enjoy the taste of yogurt.
Toxoplasmosis as a possible cause
Black tongue in cats can also be caused by toxoplasmosis, an infection caused by a parasite. Toxoplasma gondii (T. gondii) is the single-celled parasite responsible for causing the infection. A cat can get toxoplasmosis by eating contaminated food. Toxoplasmosis can also be passed from animal to animal through contaminated feces.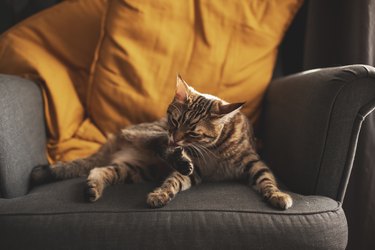 Make sure to clean your cat's litter box every day, and use gloves and a mask when you dispose of the feces. Do not let your cat defecate in your garden because the feces could contaminate your produce.