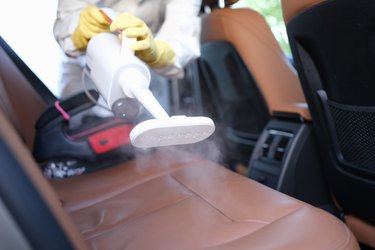 Cats may urine mark for a variety of reasons, but if they've done so on your expensive leather items, it can be more than a little frustrating. Fortunately, you can clean cat urine from leather in a few easy ways with some simple cleaners created specifically to neutralize cat urine, a bit of saddle soap, and some conditioners for leather. Before cleaning your leather, test a small area with the cleaner to see if it's color fast.
Getting to the stain quickly is the most important part of cleaning up cat urine because of the corrosive properties of uric acid. Don't fret if the urine has dried, though, because with a little elbow grease and a good enzymatic cat urine cleanser, even stubborn spots should come out. Learn how to get that urine stain and the accompanying odor out of your leather goods for good.
How to get cat pee out of a leather jacket
If you've left your leather jacket or another wearable leather item laying about and your cat has urinated on it, the quicker you clean it, the greater the chance that you'll remove any stains. You want to absorb as much of the urine as possible using paper towels. Then, soak a cloth with an enzymatic cat urine cleanser and place it over the spot where for a few hours.
Wipe and feather out the spot with a damp cloth to prevent a water ring from forming. Dry the jacket in the sun. Check for any odors and if they remain, place the jacket into a resealable bag filled with a cup of borax and a cup of activated charcoal. Let it sit overnight before removing it, shaking it out, and wiping it down with a leather conditioner.
Clean stains inside the lining of a jacket with a solution of 1 cup of water mixed with a few drops of laundry detergent. Fully dry the jacket in the sun.
How to remove cat urine from a leather sofa
Generally, leather is more durable than other materials for a sofa, but if your cat has peed on your couch, that urine could damage it and leave behind an unsightly stain. That's why it's so important to sop up as much of the urine from the surface of the couch as possible with paper towels.
Once you've gotten the urine off the couch, unzip your couch cushions and remove the inner padding. At the site of the urine, wipe down the surface of the leather with a mixture of a few drops of dish liquid or saddle soap and a cup of warm water. Wipe down the entire surface so you don't leave a new stain. Allow the cushion covers to dry in the sun.
Treat the cushions themselves with a mixture of equal parts vinegar and water or an enzymatic cat urine cleaner. Allow them to dry fully. If any stains or odors remain, wipe down the leather with the vinegar mixture or a cat urine cleanser and let it dry completely. Once dry, reassemble your couch.
How to get cat pee smell out of a purse
Perhaps your feline friend has peed on — or worse, in — your purse. To get rid of stains and odors, empty the purse and sop up the urine from the outer surface and from the inside lining. Spray down the lining with an enzymatic cat urine cleaner. Do the same on the leather outside. Allow it to sit for a few minutes before wiping it away from the outside in circular motions with a soft white cloth and drying the purse in the sun.