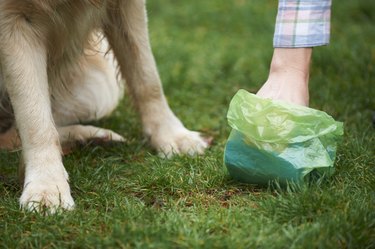 Animals, kids, and adults can all track dog poop picked up in the yard on paws and shoes into your home. That can lead to bacteria, parasites, and other unhealthy elements on your carpet, wood floors, furniture, and other fabrics. Taking the time to learn a little about the harmful effects of dog waste and the best way to clean up dog poop in your yard will help you keep your pets and family safe and healthy.
Dog should eat a high-protein diet, and that can lead to waste that has 23 million fecal coliform bacteria per gram as well as different worms and other parasites that can contaminate waterways and make humans ill. If you've worked hard to seed, fertilize, and take care of your lawn, you've probably learned that a dog's urine can "burn" grass, leaving yellow and then brown circles. Leaving dog poop sitting on top of grass can also cause the grass to die.
Is dog waste good fertilizer?
Depending on which website you read, dog poop is either suggested as a good fertilizer to add to your compost pile or it's considered a dangerous bacterial stew you should avoid.
Additionally, dog waste is highly acidic, so it won't be right for flowers, fruits, and vegetables that do better in a more alkaline soil. Unless you want to invest the time to learn how to properly compost and use dog waste for fertilizer, use more traditional forms of soil amendments for your landscaping and gardening needs.
Before you start thinking about how you're going to clean up and remove dog waste from your yard, decide where you're going to put it. If you're going to compost it, make sure you learn how to do this correctly and safely, which includes using a separate composting area from your regular compost pile. If you want to remove it completely from your yard, consider putting it in biodegradable or compostable bags and placing it in your trash container. You can use leftover plastic grocery bags, but that plastic will sit in landfills for hundreds of years.
Another way of disposing of dog waste is to flush it down your toilet. The waste will go to your area's sewage treatment plant just like human waste. Make sure that as you transport it from your yard to your toilet, nothing falls out of your bag or off your scooper. Look into a grass or lawn disinfectant that helps eliminate pet waste bacteria.
You can also bury dog waste somewhere in your yard, but that can cause multiple problems. First, your dog or other animals might smell it and dig it up. Second, after a while, you might begin to run out of room. Finally, all of the harmful contaminants in dog waste might make it into your groundwater, possibly causing health problems. For all of these reasons, the best way to clean dog poop from a yard might be to flush it or chuck it. You can make things easier for yourself if you train your dog to go in a certain area of the yard, such as a favorite area he's already chosen.
Make sure you thoroughly wash your hands whenever you handle dog waste even if you don't touch it. Rinse off your tools as well. At the very least, if you hang a scooper on the wall of your garage or shed or toss it into a bin, make sure that leftover dog poop doesn't come off the tool and become a problem again.