If you have a dog who chews everything under the sun, getting a chew-resistant dog bed, such as a Kong bed from PetSmart or another pet store, can help ensure you won't come home to a destroyed dog bed. Fortunately, the cover of the Kong dog bed is machine washable.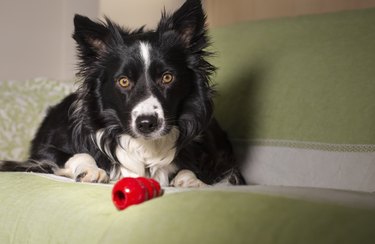 The Kong brand is known for its nearly indestructible and uniquely shaped toys. It also has a full line of toys for dogs to enjoy as well as dog beds with chew-resistant covers. The filling of the beds can vary, but they are plush and comfortable for your pup. The cover is made of water-resistant, ripstop fabric. While not completely indestructible, it is strong enough to prevent your pup from destroying the bed in most cases.
Kong offers several different beds so you can find one that fits your dog's needs. For example, you can choose from a lounger-style bed with bolsters on two sides or a cuddler bed that has bolsters on three or four sides so your pup can snuggle and feel secure in his space. Kong also has a flat, orthopedic mat bed that is ideal for dogs with arthritis.
Be sure to choose a bed that is an appropriate size for your dog. If you plan to use the bed in a crate, be sure to measure the crate so that you get the correct-size dog bed.
Kong crate mat washing instructions
Dog beds always need to be cleaned regularly since your dog will nap and rest there, leaving behind hair, dirt, and drool. If your dog chews frequently, either on the bed, on bones, or on toys that she plays with in the bed, you will likely need to wash the bed even more frequently. While the bed itself may not be machine washable (although you might be able to hand-wash it), the cover of a kong dog bed machine washable, but check the instructions first.
Since each Kong bed has a different cover, be sure to check the Kong dog crate pad washing instructions before you get started. In general, washing is a simple process. Simply remove the cover from the bed and wash it in the washing machine using cold water. Some covers can be put in the dryer, or you can air dry the cover.
While you are washing the cover, make sure to put the rest of the bed out of reach of your chewing pup. When the cover is dry, put it back on the bed and return it to your dog's favorite spot.
The Kong brand offers a 60-day satisfaction guarantee on Kong-brand toys, recovery collars, and consumables that are purchased from an authorized seller. Since dog beds aren't specifically covered under this guarantee, it is best to check with the pet store or other retail outlet to find out what warranty and refund policy are offered on the Kong dog bed.
Chewing is a normal behavior in dogs, and it is important to provide chew toys to keep your pup happy and healthy. While purchasing chew-resistant dog beds and toys is helpful for managing strong chewers, take steps to help your dog stop destructive chewing.
Teach your puppy or dog about what items he is allowed to chew. If he attempts to chew a shoe or another forbidden item, use a sharp vocal sound to get his attention and then give him a toy he can chew. Offer plenty of praise when he plays with and chews on appropriate toys. When you can't monitor your dog, secure him in an area that has been puppy-proofed to prevent destructive chewing.
Chewing can also be a sign of boredom from a lack of physical and mental stimulation. Make sure your pup gets plenty of exercise daily. Stimulate him mentally with things such as obedience training, dog puzzles, or games of fetch.