When you get a new dog, deciding upon the name can be overwhelming. While there are many common pet names, it's easy to come up with a creative name for your dog that won't get lost among other dogs named Spot and Rex. But remember: Though it's fun to think of creative names for dogs, make sure it's a name you won't mind yelling loudly to call your dog in your neighborhood or at the local park! Otherwise, a fun, creative name is a great way to showcase your dog's personality.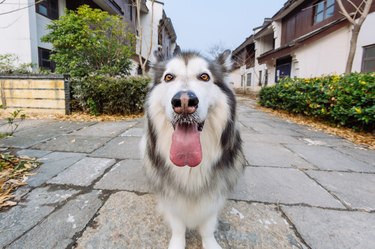 Avoid common names for dogs
According to a survey conducted by VPI Pet Insurance, Max and Molly are the most common male and female dog names. Consider a list like VPI's as a starting point; once you review — and eliminate — the most common male and female names, you're well on your way to finding a creative dog name. The same rule applies to popular dog characters. Names of movie characters like Lassie and Lady are extremely common. For creative ideas, troll animal shelter websites. Because they take in animals constantly, their pet names are often creative and uncommon and could spark inspiration for your new dog's name.
Find creative sources to inspire your dog's new name
Rather than recycling common dog names, consider names from unexpected sources. Think about the characters from your favorite book or movie. For example, Huck and Frodo are far more creative than Spot and Buster. Remember, though, to stay away from names of dog characters because those tend to be frequently used. Another option is to consider adjectives and adverbs over proper nouns. For example, if you have a really rambunctious pup, consider an adjective like Rowdy. Jot down a few words to describe your pup's personality, and consult a thesaurus for options.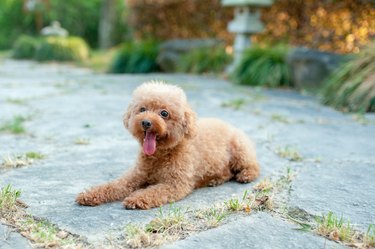 Think like a trainer when naming your dog
When selecting a creative name for your dog, think like a dog trainer to avoid common pitfalls. You are probably going to teach your pup some basic commands like sit, come, and down, and you may want to teach him some fun tricks, too. Make sure that your name doesn't sound too much like a common command. For example, a dog named Joe might get a little confused when you tell him no, or Clown might get mixed up with the down command. Also, shorter names tend to be easier for the dog and easier for you. Imagine trying to call your dog Finnegan or Constance at the dog park; chances are all those syllables will get lost in the noise at the park. Focus on a shorter name with solid consonants (Trudy instead of Sis) to ensure an attention-getting name for your new pup.
Quirky and creative names for dogs—female
Got a special girl in your life but just need that special name to really set her apart from the rest? This list of creative names for female dogs can definitely help get you started! It's filled with names of above-average female characters from art and literature, along with some distinct names that just sound a little feminine for your favorite canine pal. Remember, your dog's name should be just as creative as she is, so keep an eye out for her personal quirks for great name ideas of your own!
Aja
Alta

Amaris

Anise
Beebee

Bertha

Bertie
Brooklyn
Bunny
Busy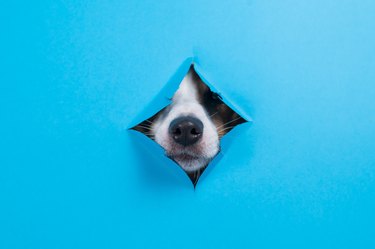 Catia
Cibola

Cinder
Coconut
Denali
Fabs

Fern

Glitter

Godiva
Henna: A great name for a dog with reddish hair. Henna is a shrub whose leaves can be made into dye, which people use to color their hair, and create body art designs, and is used in many religious traditions, including Hinduism.
Jezzy
Kay

Kees

Keke

Kelby

Kindle

Kisses
Latka
Lottie

Mabel

Magpie

Mallory
Maripol

Marzipan
Midge
Nalla
Nutella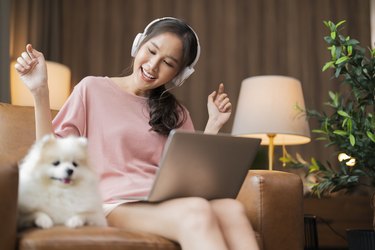 Rosamund: A great name for a sweet, delicate girl. The name Rosamund means "pure rose."
Sable

Sepia

Sheena
Shiva
Sylph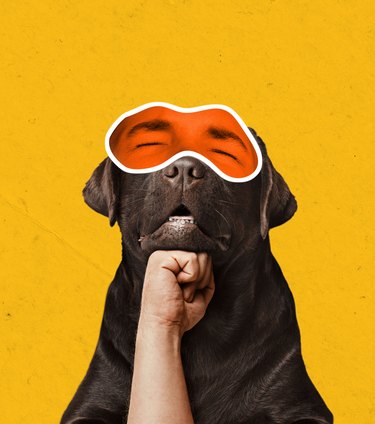 Taka

Talfryn
Tawny
Vivi
Umber
Yuri
Fun and creative names for dogs — male
Coming up with a great name for your boy dog doesn't have to be hard when you've got a little help. This list of creative names for male dogs is filled with a little bit of everything, from cute names for playful boys to strong-sounding names that are just a little different than your everyday Buddy or Riley. Take a look at this list for the perfect name, or for just a bit of inspiration along your dog naming journey.
Axel
Banjo
Bantam
Bash
Biden

Bixby

Bolo
Bolts
Bono: A good name for a dog with musical characteristics. Popular musicians named Bono include Bono, the lead singer of U2, and the late Sunny Bono, of Sonny and Cher fame.
Boots
Brauts
Brighton
Chopper
Cirrus

Clooney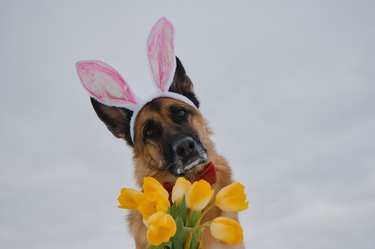 Corky

Czar
Fenway

Fjord

Gravy
Griffin
Grimsby: A good name for a dignified, hard-working guy. Grimsby is the name of a port town in Lincolnshire, England.
Hans
Harper
Hobbs
Hoss
Hutch
Huxley
Indus
Irving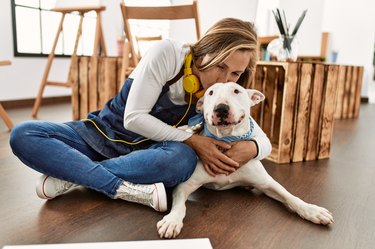 Jax
Jericho
Jet
Kai
Kane
Kutcher

Lamont
Landon
Leopold
Leviathan
Lipton
Merlin

Oswald

Pico
Pip
Polk

Puck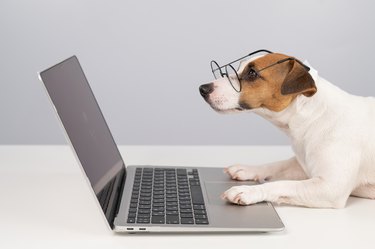 Quigley

Randle
Rayne
Ree
Reginald
Revis
Ridgewell
Royston
Rusky
Ryder
Saber
Stag: Perfect for an athletic dog, or a long-legged boy. A stag is another name for a male deer.
Tank
Taron
Tycho

Vortimer

Zander
Zee
Zeek
Creative gender-neutral dog names
Really, any of the names in this article can be considered gender-neutral. After all, you're looking to give your dog a creative name, so why subscribe to traditional male or female names (honestly, a lot of the names above are pretty borderline anyway.) Finding creative names for pets can be a fun process that's intended to honor that something special about them, so really, the sky's the limit! Have fun with it and see if any of these names inspire you!
Acorn
Almond
Arrow
Banana

Biloxi

Birch
Blade

Blimp
Blink
Bug
Burbank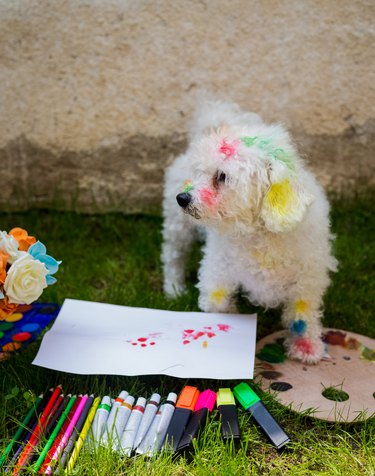 Cannoli

Cashew
Chablis

Chai
Chalky
Chinook
Clue

Codex

Crackers

Cramps
Crayon: A great way to honor a canine companion with a colorful personality. Crayons encompass every color of the rainbow, and are usually associated with childhood fun!
Crumbs
Crumpet
Cry
Cups
Curby
Flea

Frex
Gadget
Giblet
Hershey

Hiccup
Jagger

Kodiak

Kolpin
Komet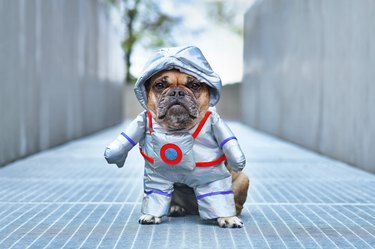 Krypto
Kunlun
Laces
Legos

Marble

Mayo

Noop or Noopers

Notes
Nutmeg
Odyssey
Onyx
Parsnip

Pasta: Great for a silly pup, or anyone who loves to chow down. Who doesn't love a heaping plate of pasta? You can also look to specific pasta types from here, like gnocchi, ravioli, linguine, or any other fun shapes that you love the taste of!
Peaque
Pepsi
Pistachio

Pizza
Pockets
Polaris
Porb

Potato
Powder
Pudge

Queso
Radar

Ritz

Rolo
Roo
Rooney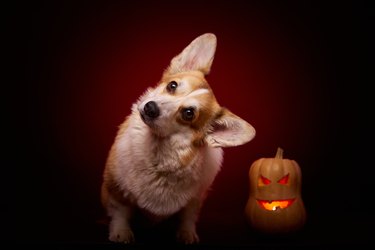 Root Beer
Salty

Samus
Shrub

Soho
Somerset
Sorrel
Soy
Specs
Spigs
Spoons
Starling: A not-so-average name for a dark-haired doggies. If you're looking for something a little more original than Shadow or Cinder for your black-haired dog, Starling is a great choice, after the black birds with the iridescent hue in their feathers.
Stoli
Suede
Sumo
Sutton
Syrup

Taco
Tadpole
Thermos

Thimble
Toast
Tofu
Tonks
Truffle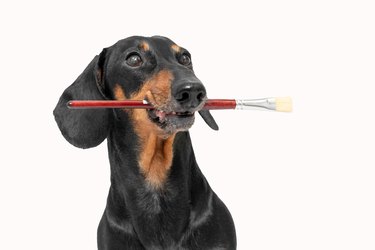 Tuba
Turtle
Utah

Vertigo
Weensy

Wren
Wriggles
Wrinx
Xabat
Yack
Yeats
Yogurt
Zinc
Zippers
Zuul: There is no Dana, only Zuul!" If you recognize this line, then Zuul might be the perfect name for your dog. It comes from the massive hit movie Ghostbusters.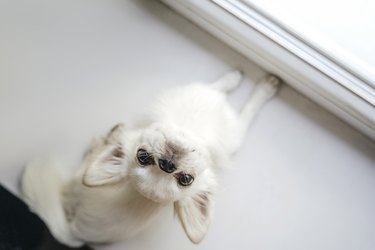 Do you need more inspiration for your new pet's name?
Pets are like our children. We love them, care for them, and we get to dress them up in adorable outfits — if that's a thing we feel like doing! So it's extra important that we take time to find the perfect name that reflects our new pet's personality and potential. Naming can be hard, which is why we've gathered nine pet-naming techniques to find the perfect fit, as well as assembled a handful of our most beloved lists of pet names!