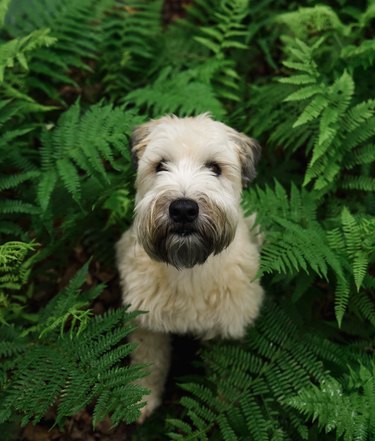 The soft-coated wheaten terrier boasts a medium-length, wavy coat in a golden brown tone, which gives them the name "wheaten." There is only one soft-coated wheaten terrier breed, but there are two common coat types: Irish and North American. The American Kennel Club also recognizes the Irish terrier.
Soft-coated wheaten terrier
The soft-coated wheaten terrier originated in Ireland as a farm dog who would perform a variety of tasks, including herding and ratting. A full-grown male soft-coated wheaten terrier grows 18 to 19 inches tall and weighs 35 to 40 pounds. A full-grown female soft-coated wheaten terrier grows 17 to 18 inches tall and weighs 30 to 35 pounds.
While breed is not a reliable indicator of temperament, the breed tends to be affectionate and great with children in the home. They are described as devoted, friendly, and happy. A healthy soft-coated wheaten terrier has an expected life span of 12 to 14 years.
They have a fairly high energy level and need plenty of activity each day. They do have a strong prey drive, so it is a good idea to keep them on a leash when you aren't in a fenced area. The dogs are quite intelligent, but they also have a willful streak that makes training a challenge. Focus on positive reinforcement methods.
Wheaten terrier coat types
Irish and North American wheaten terriers have different coat types. The American Kennel Club does not differentiate between the two types; both are included under the soft-coated wheaten terrier breed. Soft-coated wheaten terriers have a medium-length single coat.
The Irish soft-coated wheaten terrier has a wavy, flowing coat that is soft and silky and lies close to the body. Some breeders consider this to be the correct coat type. The benefit of this coat is that it rarely tangles and mats. So, while regular grooming is important, you are unlikely to have serious matting problems. Unfortunately, this coat can take a while to grow in, and puppies under the age of 3 can be described as scruffy.
The American wheaten terrier also boasts a wavy coat, but the fur is much thicker, and puppies have a beautiful coat without going through the awkward scruffy years. The coat tends to be straighter and fluffier than an Irish wheaten terrier's coat. In addition, it can form mats more easily, so frequent brushing is required, taking care to remove tangles all the way to skin level.
Irish terrier differences
The Irish terrier also originates from Ireland as an all-purpose farm dog. The Irish terrier is slightly smaller when compared to the soft-coated wheaten terrier size. Irish terriers grow to 18 inches tall. Males weigh 27 pounds, while females weigh 25 pounds. The breed has a life expectancy of 13 to 15 years.
They also have a much different coat than the wheaten terrier. Irish terriers have a wiry double coat, and there are three accepted coat colors: red, red wheaten, and wheaten. The coat needs to be regularly stripped or clipped and brushed each week.
Like the wheaten terrier, the breed is affectionate and good with children. However, they may not get along with dogs as well as the wheaten terrier. Early socialization is critical for these pups. The breed is described as bold, dashing, and tenderhearted. They don't generally have quite as much energy as a wheaten, but they still need a daily walk and playtime. Like the wheaten terrier, the Irish terrier is intelligent but also willful, so patience and positive reinforcement are key for successful training.