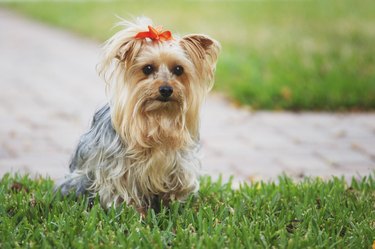 The Yorkshire terrier, or Yorkie, and the silky terrier are two members of the American Kennel Club's toy group. These tiny pups have a similar appearance, as the Yorkie was one of the breeds used to create the silky, but there are some differences in size and appearance that you can use to differentiate between a silky and a Yorkie.
Silky terrier vs. Yorkie history
Yorkshire terriers were bred in Yorkshire and Lancashire counties in England in the mid-1800s. Their small size allowed them to chase and capture rodents in tiny spaces, such as those found in textile mills. In Victorian times, they were a popular lap dog.
The silky terrier, on the other hand, was bred in Australia in the early 1900s as a cross between the Yorkie and Australian terrier. The silky was sturdier to hunt larger prey in Australia.
Silky vs. Yorkie appearance
The Yorkie and silky terrier can look identical at first glance. Both have blue- and tan-colored coats and straight, silky hair, but there are some differences. Yorkies grow 7 to 8 inches tall and weigh 7 pounds. Silkies are larger, more muscular dogs, growing 9 to 10 inches tall and weighing about 10 pounds.
You can also look at the head and ears to see more differences. The silky's head tends to have a wedge shape. The ears are narrower at the base and more pointed at the top. Yorkies have a rounder head, and their ears are wider at the base with a less defined point.
In the show ring, you will see that Yorkies have fur that reaches the ground and a topknot on their head. The silky will have slightly shorter hair on the body and head, and the hair on the head is typically parted. Of course, the Yorkies and silkies you meet at the park are unlikely to be groomed for the show ring.
Silky vs. Yorkie terrier temperament
Both the silkie and the Yorkie are terriers with similar tenacious terrier personalities. While breed is not a reliable indicator of temperament, there are some personality differences between the two breeds.
Yorkies are described as sprightly, affectionate, and tomboyish. These feisty pups are playful and affectionate with their family and young children. Yorkies tend to have a high energy level and need plenty of exercise and play.
Silkies are described as alert, friendly, and quick. These pups are spirited and affectionate but may not do as well with young children as the Yorkie. They also tend to be not as high energy as the Yorkie.
Yorkie and silky health concerns
The Yorkshire terrier tends to be a healthy breed, but there are a few hereditary conditions for which responsible breeders will screen. These include a luxating patella, or dislocated kneecap, and eye problems. A patella exam and ophthalmologist exam is recommended for puppies and dogs who will be bred. Yorkies have an expected life span of 11 to 15 years.
Like many toy breeds, these dogs are prone to dental disease as they age. Add tooth care to your grooming routine to keep their mouth and gums healthy.