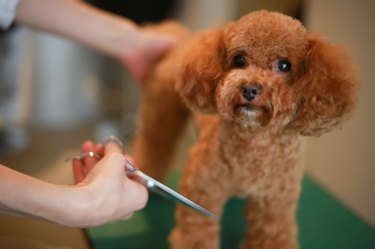 Few dog breeds are as stunning to behold as the standard poodle, and when this pup sports a poodle lion cut or certain short poodle cuts, even more heads turn to gaze. However, these grooming styles for poodles aren't always easy to master, and it takes regular maintenance to keep them looking spiffy. Diving into DIY dog grooming requires practice and a time commitment as well as a set of quality tools. Once you've gained your pup's trust, giving him the best-looking haircut of his poodle life will be a breeze.
Grooming styles for poodles
Grooming styles for poodles run the gamut from aww-inducing adorable to plain ol' comfortable in warm weather. They typically include the poodle lion cut (just like it sounds, with a good-size mane around the head); the poodle show cut, which must adhere to American Kennel Club guidelines based on your dog's age; and the summer cut, which is a nice, short trim all around for when the temperatures rise. You might also consider the English saddle clip poodle design, which is more time-consuming to achieve since it includes multiple pompoms on the legs, body, and tail.
You'd be forgiven if you thought poodle fur was all fun and games since certain grooming styles for poodles seem rather wild on first glance. But "fur" is a misnomer here. Actually, poodles have hair that grows continuously like a person's. The style you select has some history attached, particularly when it comes to the continental-cut poodle.
Since the standard poodle was bred as a water-retrieving working dog, this hairstyle reflects the cold and the difficult job with which these canines were tasked. Hunters intent on nabbing waterfowl favored the continental look, which allowed the dog to swim with ease (the legs, neck, and tail are shaved), and keeping pompoms on the chest, hips, and leg joints protected from icy river water and freezing weather.
In order to choose from the grooming styles for poodles, it's smart to consider the time you have in your busy day, the funds you have on hand to devote to tools (or to pay a professional to style your dog), and the type of life you plan to enjoy with your pet. If you're going to show your animal, learn the proper show cuts for your poodle so you're in compliance. If regular dog life is what you're hoping to offer, it might be wise to stick to an easy-care cut.
Poodles aren't big shedders at all, which makes them good picks for those suffering from allergies, but being nearly hypoallergenic doesn't mean grooming isn't front and center with this breed. In fact, this dog type requires some of the most hair care duties of all canines in order to keep the hair free of mats and tangles. Some poodles will need a haircut every three weeks, though other pups can go longer — as little as every other month.
Not every dog likes to be combed, brushed, bathed, and trimmed. If you find your dog is suspicious or even frightened of the grooming process, you could engage in what's known as husbandry training. This established method helps an animal get used to grooming and other types of touch by using positive reinforcement, such as praise and yummy treats. To begin husbandry training, work to gently touch your pup all over so he becomes used to the idea of being handled in every area. These motions will come in handy during a bath or tooth-brushing session.
Next, set up the treats for which your dog begs (peanut butter, crunchy commercial bits) in a spot he can reach. When he goes to nibble or lick his food, start to brush or comb his fur or hair. If he walks away, let him go — it's his choice to stop enjoying the treats and the hairstyling. When he comes back, offer the treats again and start the grooming anew as well. In time, he'll come to associate your brush and scissor work with a delicious plate.