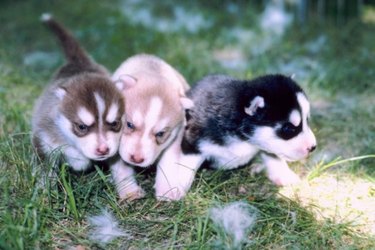 Although there are many types of huskylike dogs, the Siberian husky is the only husky breed recognized by the American Kennel Club (AKC). These thickly furred dogs weigh in at 60 pounds or less and were bred to pull light loads quickly over snow and ice. Different types of huskies, such as the Alaskan malamute, Alaskan Husky, or Alaskan klee kai, are sometimes mistaken for being Siberian huskies.
There are nine colors of huskies recognized by the official AKC breed standard. Seven of the color variations are paired with white and include brown, black, sable, agouti, gray, red, tan, and black and tan. There are also pure black and pure white color variations of the Siberian husky.
It's no wonder that a person could wonder if there are actually different types of husky breeds. An agouti color is often known as the "wild color," and Siberians of this color are sometimes mistaken as wolves by people unfamiliar with the breed.
The direwolves portrayed on the show "Game of Thrones" led to an increase of gray, agouti, and other wolflooking Siberian huskies with names reflecting the dogs on the series being abandoned in shelters. Siberian huskies are known for diligently seeking a way out of any yard so they can engage in their life passion: running. They're also very vocal, making them unpopular with nearby neighbors.
Although Siberian husky types where coloring is mixed with white will result in a dog with the distinct white face mask, piebald dogs might have a colored marking around one or both eyes.
The black-and-white type of husky is often mistaken for the Alaskan malamute. Huskies might have one or more blue eyes (or two brown eyes), but blue eyes are a fault in mals. The almond shape to the eye is also a giveaway.
Pure white Siberian huskies can be mistaken for Samoyeds or white German shepherds. However, the huskies are smaller than shepherds and don't have the extensive fluffy coats of Samoyeds. Huskies can also be pure black.
Close cousin: the Alaskan malamute
Siberian huskies can easily be confused with other husky types. The Alaskan malamute is most common, as they are often used for sledding. Mals are designed to pull heavy loads over shorter distances and have a "huskier" build. The dogs should stand a minimum of 23 inches at the shoulder — taller than a husky — and weigh in at 75 pounds or more.
Malamutes are like the freighters of the dog sledding world as opposed to the lighter-bodied Siberians who pull light loads over long distances. Think of Siberians as sprint racers, whereas mals are more like weight lifters.
A malamute doesn't present the runaway risk of Siberians. After 30 minutes in the yard, your mal is likely to be waiting at the back door ready to cuddle on the couch with you, whereas a Siberian will still be figuring out how to escape the yard. Malamutes are quieter than Siberians, emitting a "woo-woo" sound when it's time to eat, play, or go outside.
Small relative: Alaskan klee kai
The Alaskan klee kai breed was developed in the 1970s from Siberian huskies. Although they can pull small sleds, their primary purpose is as a companion dog. The klee kai breed stands 17.5 inches in height at their tallest. This is several inches shorter than Siberian huskies, for whom the minimum desirable height is 20 inches.
There are three sizes of Alaskan klee kai. The toy type of the breed is 13 inches or shorter. A miniature stands 14 or 15 inches tall, and the standard size is 15 to 17.5 inches. However, their house-dog size doesn't mean they work well for apartment life. Like Siberian huskies, they are very vocal, emitting yodels of delight when happy and screaming loudly when they are not.