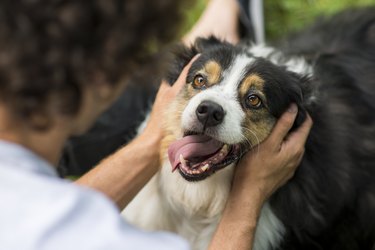 When your dog is licking your face, it might be difficult to ignore his smelly dog breath. This may leave you wondering, "Is a dog's mouth clean?" While your dog's mouth probably isn't as dirty as you think, it does need regular cleaning. Keeping your dog's mouth clean should help keep his breath smelling a little better. You can do this using several methods, including dog toothpaste, chew toys, dental chews, and dental sprays.
How clean is a dog's mouth?
We've all heard the rumor that a dog's mouth is cleaner than a human's. Some people attest to that, while others believe a dog's mouth is extremely dirty. While it is a myth that a dog's mouth is cleaner than a human's, it isn't really dirty either. The truth is, comparing a dog's mouth to a human's is like comparing apples and oranges. They're just different. There are different kinds of bacteria that inhabit their mouths.
Are dogs' mouths clean? The simple answer is no, especially if they eat disgusting things from the garbage. But they don't require regular disinfecting either. They just need their oral health maintained the same way that humans do.
Consequences of poor oral hygiene
There may be consequences if your dog's oral hygiene isn't a priority. Their teeth will eventually get cavities, which leads to further decay. This puts them at a higher risk of infection. If a dog develops an infection, it can spread to the jaw, neck, ears, or even to the bloodstream, which may carry it to other areas of the body. The inflammation caused by an infection might make it harder for the immune system to function.
Poor oral hygiene can also lead to significant tooth and bone loss. If your dog's teeth are decaying, bacteria can build up. If this continues, the bacteria may eat away at the jawbone. When it gets to this stage, it may be very difficult to treat. Since dogs do a lot of chewing, the jaw could crack, causing a lot of pain and potentially more damage the gums. If the situation becomes severe, a weakened jawbone may eventually shatter.
Even if these extreme examples haven't occurred, swollen gums and cavities cause pain and sensitivity, and these things can be avoided by creating a routine to keep our dogs' mouths in good shape.
How to clean a dog's mouth
There are lots of ways to keep your dog's mouth clean, and some of them have a greater benefit than just maintaining oral health. It's ideal to brush your dog's teeth every day to protect him from bacteria that can do damage to his teeth and gums. Once a week is OK, but more often is better. Always use a toothpaste that's made for dogs because human toothpaste may have ingredients that are toxic to dogs.
While it's easier to get your dog into a routine as a puppy, there are ways to get your dog excited about oral health if you're starting a little later. If your dog resists having his teeth brushed, find a toothpaste flavor he likes and give him a taste before putting it on the toothbrush. It might change how he feels about the experience.
There are other ways to help keep your dog's mouth clean. Some other tools that help keep your dog's mouth clean are dental chews, dental sprays, and chew toys. By using these methods, you can keep your dog's mouth healthy while he has fun eating treats and playing games. Take your dog for an annual dental cleaning at your vet's office to keep his teeth in the best shape possible.