While it is a good idea for pet owners to know what flea eggs, larvae, pupae, and newly hatched fleas look like, it is nearly impossible to see them with the naked eye. That's why it is so important to prevent flea infestations from occurring, which can be done using products recommended by your veterinarian. When your pet does have fleas, your veterinarian can advise you as to which products and methods will kill them and even many of the eggs. In addition, frequent and thorough vacuuming can end the infestation by capturing the eggs, larvae, and pupae before they become adult fleas.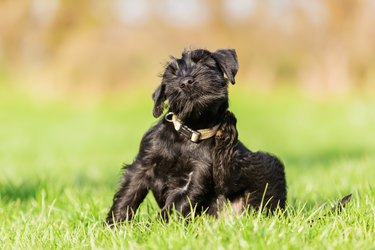 Flea eggs are dry and smooth
Adult female fleas lay eggs at the rate of an average of 20 to 30 eggs a day. Flea eggs are not sticky; they are dry and smooth. They tend to slide off the hair of host animals, so they're usually found scattered in your pet's bedding. Flea eggs are extremely tiny, typically measuring 0.05 millimeter (.002 inch) in length. You will have a difficult time seeing them with your naked eye, though, because they are almost microscopic. Eggs look like oval-shaped grains of salt.
Flea larvae look like tiny worms
Within 12 days of being laid, flea larvae emerge from eggs. Flea larvae are between 3 and 5.2 millimeters (.12 and .2 inch) long. Flea larvae are wormlike, white, and semitransparent, but they darken as they grow because they feed primarily on adult flea feces. Fleas will stay in the larval stage between four and 18 days. During this time, they have three molts, also called instars. During the third instar, they begin to create cocoons.
Flea larvae make their cocoons by secreting a silky substance and binding it to materials in their environment, helping to camouflage themselves. Their coverings are lumpy, crusty, and irregularly shaped. The pupal stage can last between three days and one year because pupae do not emerge from these cocoons until they know a host is near, sensing them from vibrations or carbon dioxide.
Prevention is the best solution
It is much easier to prevent fleas than to kill them and end a flea infestation. While they are in the egg and pupa stages, they can be vacuumed into a vacuum bag, which should then be sealed and removed from the house to be discarded. This prevents more fleas from developing. Frequent vacuuming, even when you don't know your pet has fleas, will prevent flea eggs and pupae (which you may not even know you have in your home) from developing into fleas.
Flea control for baby fleas
Fleas emerge as adults, so there is not really such a thing as baby fleas. New adult fleas begin feeding on the host's blood, jumping off into bedding and carpeting and jumping on again to feed. People can also experience flea bites, noticed by the itchy red spots they leave behind, but fleas do not live on humans, preferring furry animals if they're available. This includes any furry pet: cat, dog, rabbit, rat, or mouse. Fleas can also travel from pet to pet.
Living fleas on dogs or any pet shed reddish-black waste specks that could wind up on your pet's bedding, your furniture, and the floor. Don't mistake this feces, or flea dirt, for pupae, eggs, or larvae. If you smear a fleck of it on white paper and it turns reddish or rusty, it is likely that your dog has fleas. Many over-the-counter flea products will kill adult fleas. Soapy water often works too.
Most fleas in the United States are technically cat fleas, or Ctenocephalides felis, while fleas in Europe are often dog fleas, or Ctenocephalides canis. Despite their names, however, both types of fleas can affect all kinds of furry animals and even humans, though they prefer nonhuman hosts instead.
The egg, larval, and pupal stages can be considered flea life stages in the "baby" stage. It is nearly impossible to see them with the naked eye. Typically, they remain in the pupa, or cocoon stage, until they sense that a host animal is near. At this point, they emerge from their cocoon and make their way to the animal, where they feed on the host's blood. Frequently brushing pets and vacuuming daily will capture flea eggs before they develop into adult fleas, thus stopping the infestation. At that point, it is crucial to prevent new infestations by using products recommended by your veterinarian.