Upper respiratory infections in dogs can lead to chest congestion, which can become life-threatening if left untreated. The good news is that the outward signs of upper respiratory trouble are easy to spot, and the condition is usually treatable. The bad news is that untreated dog chest congestion can kill a pet in less than two weeks. Here's how to treat lung congestion in dogs: Take your dog to a vet immediately if you see any signs of congestion.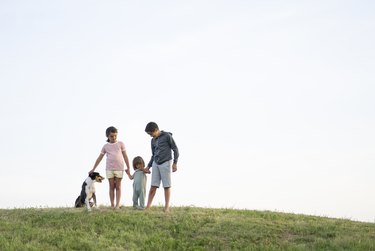 Congestion in dogs can be caused by several conditions, including kennel cough. Note, however, that kennel cough is a catch-all term and isn't caused by only one organism. Kennel cough is a term often used when a dog is exhibiting one of the most common signs of canine congestion: coughing accompanied by an obvious honking sound.
Conditions leading to dog chest congestion
Respiratory flu or seasonal allergies can progress to nasal or lung congestion in dogs. The source of canine respiratory infection can be any of several things including canine influenza H3N8 or H3N2 viruses, injury to the chest area, canine parainfluenza virus, Bordetella, distemper (though this is rare), and other bacteria and viruses.
As noted earlier, the umbrella term "kennel cough" is often used when referring to any of these infectious causes of dog respiratory conditions. However, the most common cause of kennel cough is the bacterium Bordetella bronchiseptica. Note that Bordetella is highly contagious and can be transmitted between dogs via airborne droplets, direct contact, or on surfaces such as water bowls or toys. Dogs that are frequently around other dogs should receive a Bordetella vaccination.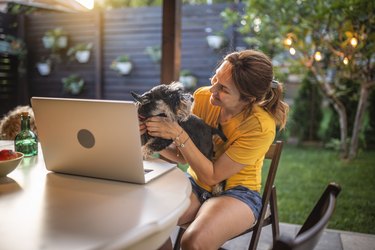 Symptoms of dog chest congestion
Dog chest congestion symptoms can start subtly but usually become obvious quickly. A major sign of congestion is an inability to breathe easily unless standing. Some dogs might even stand with their elbows flared out or extend their head and neck to make breathing easier. Notably, a deep, nagging, hacking cough — often described as honking — is another sign of trouble.
A wet cough could also signal pneumonia, which likely will cause lethargy, loss of appetite, sneezing, runny nose, or even fainting. A high fever can be a symptom of respiratory infection. But note that temperatures between 100 to 102.5 F (higher than humans) are normal for dogs. While a fever of 103 degrees F or higher often indicates an infection in dogs, canine congestion from allergies, irritants, or underlying problems such as congestive heart failure will not cause a fever.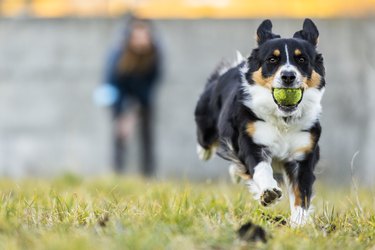 How to treat lung congestion in dogs
Take your dog to a vet immediately if you notice any signs of congestion. Untreated congestion can kill a dog within weeks. Congestion stemming from allergies or bacterial infection can be treated with medication, but congestion resulting from flu or viral infection cannot — only the symptoms can be treated.
However, there are ways you can ease nasal and lung congestion in dogs and help your dog cope. Keep your pup warm, dry, and hydrated. Of course, offer fresh water, but a humidifier nearby can help. Note that a warm mist humidifier is better than a cool mist. If you don't have a humidifier, 10 to 15 minutes once or twice a day in a steamy bathroom after running a hot shower might loosen a dog's nasal congestion. Keep the dog beside the tub or shower, not in it.
Using a humidifier is a nebulization technique — nebulization simply means the delivery of a fine mist to the lungs. Similarly, a nebulizer is a machine used to deliver vapor, sometimes medicated, in front of a dog's nose, allowing them to breathe in the moisture. Again, the nebulizer mist should be warm, and it's recommended you run the nebulizer for 15 to 20 minutes once or twice a day for a week to help ease a dog's chest congestion.