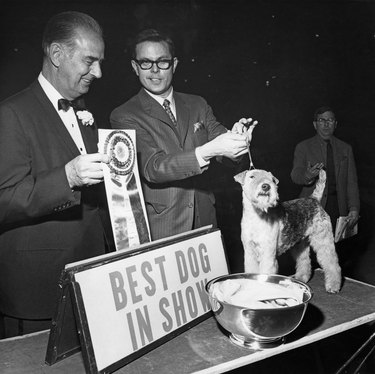 Conformation dog shows help breeders evaluate and select the best stock. Each breed follows a written standard that describes the ideal structure and temperament of its dogs. Reserve ribbons designate dogs who can receive winner's points if the original winner becomes disqualified.
Class Placements
Dogs competing in conformation shows earn points toward their championship title. Male and female dogs compete separately, with additional classes often offered for puppies, novices and other categories.
The top four dogs in each class receive ribbons, with the first-place dog from each class advancing to compete in the winners' class. Both a male and female winner are chosen and receive championship points from a scale based on how many dogs were entered for the breed. The male and female winners then move on to complete for Best of Breed. Dogs who have already earned their 15-point championship are eligible to compete in Best of Breed without moving through the classes.
Reserve Placement
Reserve placements are awarded in the Winners' classes for both males and females. No points are awarded for reserve. Occasionally, a dog who wins may be disqualified after the show. Dogs with incorrect registrations or ineligible ownership can be disqualified and lose the championship points assigned for the win. In these cases, the points and ribbon are reassigned to the Reserve dog along with the Winners title.
Reserve Best in Show
The winner of each Best of Breed class moves on to compete in one of the seven breed groups: Sporting, Hound, Working, Terrier, Herding, Toy and Non-Sporting. First through fourth place is awarded in each group, and the first-place group winner advances to compete in the final title: Best in Show. A reserve winner is named to the BIS dog. No points are awarded for the reserve title, but if the Best in Show winner is disqualified, the title and ribbon go to the reserve dog.