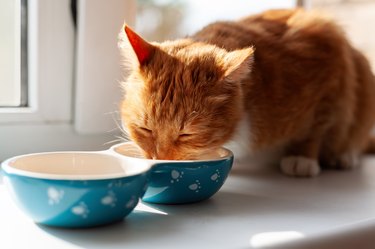 As carnivores, cats thrive on a diet that is high in protein and low in carbohydrates. The best food for cats is often a high-quality, commercial cat food, but in some cases, making homemade meals for your feline is necessary. Most cats love the taste of liver, so it can be a great ingredient to feed as a treat or in home-cooked cat food. Too much liver can be a problem, so be sure to consult your veterinarian before starting your cat on a new diet.
Homemade cat food considerations
Commercial cat foods meet the nutritional standards developed by the Association of American Feed Control Officials. Whether you opt for dry or canned food, this is usually the best option for most cats. However, in some cases, cats may need an alternative food that you make from home. This could be because of food allergies or another medical condition.
Chicken liver is one ingredient that may be used as part of a homemade meal. If you opt to cook for your cat, be sure to consult your veterinarian and get an approved recipe. This will ensure your cat is getting the nutrients and calories she needs to stay healthy. You can also find recipes based on the ingredients you have at BalanceIT.com, a site created and managed by board-certified veterinary nutritionists.
You can also give your cat some chicken liver as a special treat. Make sure not to feed too much as the calories from treats should only make up about 10 percent of your cat's daily calories. Make sure to properly cook the liver and avoid feeding too much which can lead to serious health problems for your cat.
Cooked chicken liver for cats
The liver can be a host to bacteria, so be sure to cook it all the way through to kill any microbes that may make your cat sick. As long as it is cooked through, you can use any method you please. One option for cooking chicken liver for cats is to bake it for about 20 minutes in an oven set to 350 degrees Fahrenheit. You can also boil the livers if you prefer. Boiling may cause the liver to lose more nutrients than other methods of cooking.
Once the liver is cooked, you can cut it up or grate it for your cat to eat. You can add it to her dry food or feed a couple of small chunks as a treat. Alternatively, you can use it in a recipe as directed by BalanceIT.
Vitamin toxicity from chicken liver
While the occasional chicken liver can make a tasty treat for your cat, regularly feeding liver and other organ meats can lead to serious problems. Liver is high in vitamin A and, if consumed in large amounts, can lead to toxicity. The amounts vary as some cats tend to be more susceptible to high levels of vitamin A than others.
The main symptoms of toxicity include stiffness in the joints caused by bone growth and arthritis. In severe cases, joints and even vertebra can fuse together. These conditions are incredibly painful for your cat and can severely restrict her movement. Cats may also experience paralysis, gastrointestinal symptoms, and coagulopathies, a condition in which the cat's blood becomes unable to clot. Changing your cat's diet may help improve some symptoms, but much of the bone damage may be permanent.