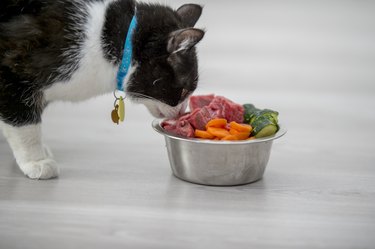 As obligate carnivores, cats thrive on a diet of mainly lean protein from meat or fish. Most food formulas are structured to meet your cat's nutritional needs, which are mainly found in meat. You may be interested in supplementing your cat's diet with produce and wondering, "Can cats eat fruit or vegetables?"
While most of the time, cats do not actually need to eat them to satisfy their nutritional needs, some are safe or even beneficial to your pet's diet. Cats may not have much interest in fruits and vegetables, but feeding finely cut pieces or a puree can offer your pet a new texture with some extra health benefits. Do not overdo it with fruits and veggies in your cat's diet, though, as cats are not great at digesting these sources of fiber. As with introducing any new food, talk to your veterinarian before making any changes to your pet's diet.
Nutrients needed in a cat diet
If you're wondering what to feed cats, most of their meal should be protein-based meats. If you buy dry or canned food, meat should be the first listed ingredient. This food satisfies all of cats' nutritional needs, from giving them energy and keeping them healthy to giving them strong nails and shiny fur.
If you want to feed them extra treats beyond their daily meal, fruits and vegetables can be a safe treat that gives them extra nutrients. Keep in mind, however, that these should be given in moderation, as cats are not able to easily digest them.
Big cats and other felines in the wild tend to eat when they are hungry, and while many domestic cats can do this, some need their meals portioned out for them and taken away throughout the day to avoid overeating. Choosing a high-quality wet or dry cat food with minimal additives and a strong protein level is important, and your veterinarian can help you choose the best formula for your pet.
What fruits can cats eat?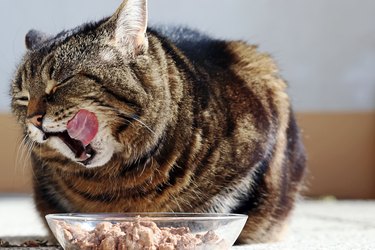 One of the best fruits to feed your cat is pure pumpkin. With moisture and high fiber content, this variety of squash is good at helping to keep things moving if your cat suffers from constipation or chronic hairballs. If your cat is not feeling well, your veterinarian may recommend a bland diet. One of the best foods in this category is banana, as it is easy for your pet to digest. Aside from pumpkin and banana for digestive issues, what fruit can cats eat? While most fruit is not toxic, there are some things to keep in mind in order to keep your pet safe when sharing your favorites.
Can cats eat cherries? Can cats have peaches? Any pitted fruit should be given with extreme caution, as it can cause your cat to choke or can become lodged and lead to a blockage. Pits and seeds also contain cyanide and can cause complications if chewed or digested in large amounts.
Cats can eat apple slices, but you'll want to make sure to remove all seeds before giving them to your pet. Blueberries are a good choice, as they are seedless. If you want to offer a fruit with seeds or pits to your pet, cut a fleshy portion rather than giving a whole piece. Some fruits, like avocado, are not lethal for your pet but can be mildly toxic and should typically be avoided.
Is spinach safe for cats? How about onions? While some veggies are perfectly safe for felines, others are toxic. Garlic and onion should never be fed to your pet, as they are poisonous. Some other vegetables can be a good supplement, but your cat most likely will not be interested in munching on them on her own.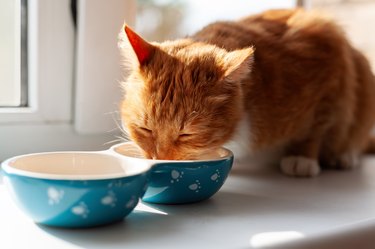 The best vegetables to give your cats in small amounts are carrots, broccoli, and leafy greens. Grinding up a little of any of these and mixing it in with your cat's regular food can add fiber and vitamins. Spinach has iron and other vitamins that are beneficial, but it should not be given to cats who have kidney or urinary problems. Too much broccoli can give your cat gastrointestinal pain and gas. Always ask your veterinarian before giving your cat a new vegetable.