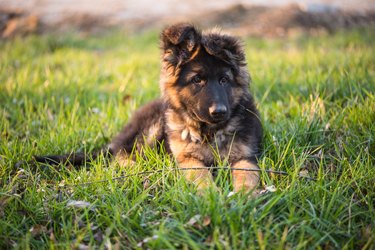 The German shepherd is one of the most sought-after breeds of dogs in the United States, ranked second in popularity out of 197 breeds by the AKC. German shepherd dogs (GSD) are known for their majestic bearing, magnificent coats, and fierce loyalty. They are considered to be very intelligent, but do require firmness in training along with lots of love and praise. You may sometimes see "German shepherd puppies for sale," but rarely will you see "free German shepherd to good home." There are places you can look, however, and with patience, persistence, and luck, you may find one.
Chances are, there is a German shepherd rescue organization near you, or at least in your state. The American German Shepherd Rescue Association, which helps fund groups that do the rescuing, maintains a list of German shepherd rescues in every state. Call those in your state, and perhaps surrounding states, and ask if they have rescued any GSD puppies. You may have some luck finding dogs one or two years old, who are still young but don't come with the antics, constant need to play, lack of training, and sleepless nights that puppies entail. Call the groups on a regular basis, and leave your name and phone number each time.
Rescue dogs aren't always free, but their fees are likely to be low. Typically, rescue organizations or shelters will spay or neuter dogs before they are adopted, give them other shots puppies need plus deworming and perhaps a checkup with their vet. You will need to pay for these services to adopt the dog, but all are services the dog needs and the costs will be less than if you took your puppy to your vet for them.
Check out animal welfare organizations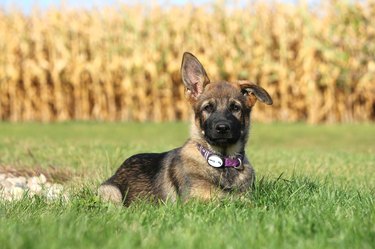 Find out about animal welfare groups in your area through online resources like the internet and Pet Finder. Your local pet store or groomers in your area may also be able to give you information they have received if someone is giving away German shepherd puppies, since they interact with many dog owners daily. Your local Humane Society and the American Society for the Prevention of Cruelty to Animals (ASPCA) are also great sources for adopting German shepherd puppies.
Local humane societies are independent entities; they are not part of the Humane Society of the U.S. Therefore, you won't find a list of affiliated humane societies on the national organization's website and you will need to look for one near you. They all share the mission of rescuing abused or neglected animals and finding homes for them. Local humane societies and the ASPCA have websites that show some of their animals, but they can quickly become outdated when animals are adopted. So it is best to call them to see if they have German shepherd puppies and the cost to adopt them.
Ask your veterinarian about rescue or animal welfare groups in your area and what experiences their practice has had with different organizations. They will know patients who adopted dogs from different places and can give you advice. They may even know of a German shepherd owner who wants to give away German shepherd puppies or young dogs, or sell them at a low price.
Scan classified ads with caution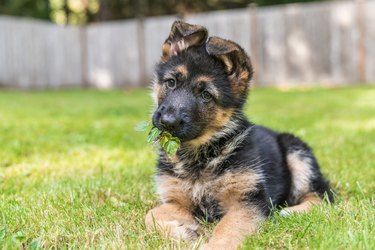 When German shepherd puppies are advertised as free to a good home, it may be a scam. They might draw you in with the idea of free puppies, then transition to some that cost a little bit, all the while showing you adorable pictures of puppies so you're hooked. Scammers often seem nice and empathetic to your search for a German shepherd puppy. Be especially cautious on sites such as Craigslist.
Consider a German shepherd mix
Many people willingly pay thousands of dollars for purebred German shepherd puppies, so free ones are understandably hard to find. If you're tired of searching for one, consider a German shepherd mix. Regardless of the other parent, the puppy will have many characteristics of German shepherds, and you can visit the dog or ask for pictures to see how much the puppy looks like a GSD. In addition to the price, another benefit of a mix is that they often lack many of the health problems common to purebred dogs.