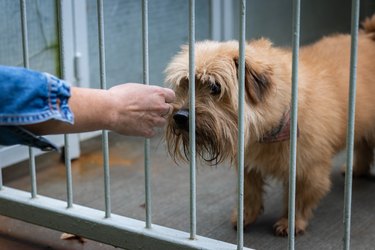 Our dogs are our family members, and in a perfect world our dogs would stay with us for all of our lives. But sometimes, life circumstances may mean that you need to give up your dog. A move into an apartment that doesn't allow pets, the loss of the job, or even the loss of the physical ability to care for your dog may need that you need to find him a new home. Sometimes, a short timeline adds pressure, requiring you to rehome your dog right away.
You may find yourself out of options and considering surrendering your dog to your local humane society. While this is a heartbreaking decision and a stressful time, the more you can learn about the humane society dog drop off procedure ahead of time, the better prepared you'll be.
Consider Humane Society resources
Before you make the decision to surrender your dog, review the resources that the Humane Society of the United States offers. These resources cover everything from helping you to cope with allergies to your pet to finding a local pet behaviorist to work with your dog on training issues. By finding local resources to help you with these common problems, you may not have to give up your dog at all.
If you're having trouble affording your dog, you may be able to get help with vet care, prescription medications, and more. Many national and state-specific organizations provide financial assistance to pet owners in need to help keep dogs out of shelters. If you're having trouble affording veterinary care, you can also consider options like applying for CareCredit, a health care credit card that offers a number of repayment options. Other strategies include applying for financial help through RedRover, negotiating a payment plan with your vet, or traveling to a vet in a less expensive region.
If none of these options solve the issue that you're facing, it's time to look into rehoming your dog.
Humane Society dog drop off
Your local shelter may be able to take your dog, give her the care she needs, and help to find her a new home. To find your local shelter, perform an internet search or check with your local town hall. Once you've identified the shelter, you'll need to call them to learn about their specific pet surrender policies. You may also want to ask if the shelter is a no-kill shelter, which can reassure you that your dog will not be put to sleep because of overcrowding or because she is not adopted quickly.
Most shelters have rules governing the pet surrender process. While you may be able to find the occasional 24 hour animal shelter drop off arrangement, most shelters only accept pet surrenders on certain days and at certain times. During the drop off, the shelter will ask for as much information about your dog's behavior and medical history that you can provide. If you have any medical records for your dog, bringing them can help the shelter to give her the care that he needs.
Preparing to surrender your dog
Many shelters do charge a surrender fee which you'll need to have at the time of drop-off. The Michigan Humane Society charges a $50 surrender fee, though this exact amount will vary from shelter to shelter. These fees help the shelter to cover some of the costs associated with caring for a dog, such as the cost of food and veterinary care.
Completing the humane society dog drop off process will be highly emotional for both you and your dog. Try to bring along a favorite toy or blanket that your dog loves to help reassure him. The shelter will do its best to find your dog a new loving home that is an ideal fit, and the more information you can provide about your dog's personality and health, the greater his chances are of finding a new home.