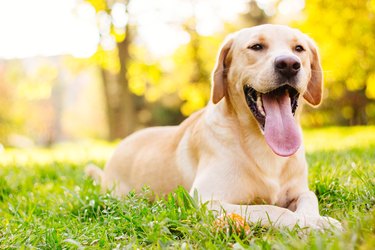 You crave a lush green lawn. If you can see exactly where your dog urinates on it because of a yellow or brown discoloration or dead grass, GrassSaver can make a difference. Even better, ingredients in the product can reduce fecal odor. You don't need to feed your dog GrassSaver all year long -- just in the spring, summer and fall, when your grass is growing.

Marketed by NaturVet, a natural products company in Temecula, California, GrassSaver is available in biscuit, soft chews, liquid, chewable tablet and wafer forms, with the daily number needed determined by the individual dog's weight. Consult your vet before administering GrassSaver to your dog.

After your dog starts receiving GrassSaver, temporarily increase lawn watering. That helps bleach out the discolored areas. Wait at least two weeks after starting GrassSaver supplementation before reseeding the yellow areas on your lawn.
Side Effects and Contraindications
Most dogs tolerate GrassSaver when given the appropriate dosage. If too much of the supplement is given, some dogs may experience vomiting, gait abnormalities or disorientation. Call your vet immediately if your dog displays any of these symptoms.


GrassSaver Ingredients
Dl-methionine, which acidifies urine, is the primary ingredient in GrassSaver. It's also used to aid dogs prone to bladder and kidney stones. The product also contains:
GrassSaver contains various types of vitamin B, along with several enzymes often found in pet foods. These include:
Always check with your veterinarian before changing your pet's diet, medication, or physical activity routines. This information is not a substitute for a vet's opinion.