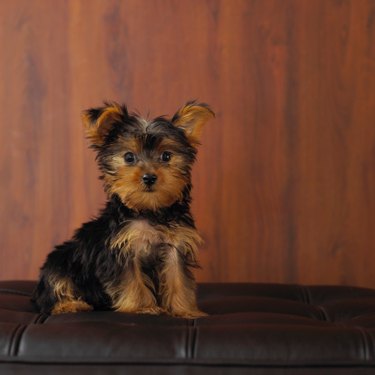 The Shih Tzu and Yorkshire terrier crossbreed is called the "Shorkie" for short, and keeping this dog's coat, ears, teeth, and nails neat and tidy is an important task. As you compile questions about this dog (like "How much do Shorkies cost?" and "Do Shorkies shed?"), it's also smart to become familiar with the different kinds of Shorkie grooming cuts. Tangles, mats, and debris can embed in your pup's fur, which means Shorkie grooming is required if you decide to bring this crossbreed home. With practice and patience, your Shorkie grooming skills will help show off your pet in style.
Most owners who don't plan to show their dogs in contests and accredited competitions will opt for a puppy trim or Shorkie puppy cut when it comes to grooming their animal. This simple pet trim is easier to maintain and care for than the long-haired look of a show cut. While gorgeous to behold, a show coat requires lots of styling and trimming so its longer look remains silky smooth. Shorkie grooming cuts and general coat maintenance requires scissors plus a pin brush or metal comb and a slicker brush so you can make your way through the layers of fur one section at a time.
A full-size black Shorkie (and those of other colors) should have a bath every other week along with regular spritzes of conditioning spray as you brush and comb to prevent knots and matting from developing. A Shih Tzu in particular (and a Shorkie has some of this breed's characteristics) needs conditioner post-bath, as some concentrated shampoos can dry out this canine's skin.
Be sure the water temperature you select is comfortable for your Shorkie (lukewarm is often best) and refrain from spraying the hose or nozzle right into your pup's eyes, ears, and nose. You might put cotton balls in your Shorkie's ears to keep out water (and dry care is best to prevent infections ).
Choose a shampoo made especially for dogs rather than a harsher one for people and then gently rub it into her wet fur, starting at the head and finishing at the tail. To clean your Shorkie's face, eyes, and ears, use a wet washcloth to gently wipe away dirt and other gunk that may have accumulated. You can also use a cotton ball with a bit of mineral oil on it to swab out your pet's ears.
Continue your Shorkie grooming by checking his nails and teeth regularly. If you can hear his nails clicking on the floor, it's time to trim them with scissors or guillotine-type clippers (pick the one you feel most comfortable using). Practice holding your pet's feet and massaging them as you offer treats, and this way, you'll gain his trust and help familiarize him with the nail-trimming process. Cut very small portions of your Shorkie's nails at an angle rather than bluntly or side to side.
As for opening your Shorkie's mouth to scrub his little teeth, this task also takes some practice and a good bit of warming up to your pet so you can get inside and do the job right. Strive to clean your dog's teeth two or three times a week, starting with just your finger on his lips and then gums. If he allows more, put a tiny dab of canine paste on a doggie brush (don't use human toothpaste as it can irritate your pet's tummy). Go slowly and carefully, moving the brush in small circles. If your pet tries to get away, let the session end. Half a mouth is fine; finish the job another day.