As part of your dog's regular grooming, you'll have to trim his nails every couple of weeks. Unfortunately, no matter how careful you try to be when you trim your dog's toenails, eventually you will cut the nail too close to the inner fleshy part called the "quick." Then your dog's toenail will start to bleed so much you'll wonder if you can ever get it to stop.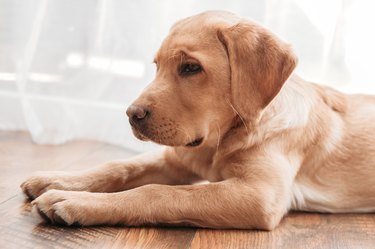 There are things you can do to stop the bleeding using items you already have at home. If you can stay calm and keep your pet calm, you will be able to take care of the bleeding quickly. Then you can follow up with your veterinarian to ensure that nothing gets infected.
Stopping dog nail bleeding
If you've trimmed your dog's nail too close and it's bleeding, try to elevate his paw above heart level. This will help to slow the bleeding. Use a paper towel, clean cloth, or tissue to apply pressure to the bleeding nail for at least two minutes while speaking calmly to your dog.
Ideally, if you have styptic powder or a styptic pencil around, reach for that. Shake a bit of powder into your hand and dip the end of the bleeding nail into it. Or, hold the styptic pencil up to the bleeding nail. This should stop the bleeding within a few minutes.
Styptic powder is made from alum and it will sting when you first apply it to your dog's nail. Try to keep your dog as still and calm as possible while you're treating the nail.
Home remedy for bleeding dog nails
While styptic powder or a styptic pencil should be part of your canine first aid kit, you might not have any in your home. If that's the case, check out your kitchen cabinet instead because cornstarch or flour can act as a substitute for styptic powder. Cornstarch and baking soda mixed together in equal parts also works well.
Fill the palm of your hand or a small bowl with either cornstarch, cornstarch and baking soda, or flour. Dip the bleeding toe in the powder; the blood should stop in a few minutes. Follow this up by holding a tissue or paper towel over the wound to ensure that the bleeding has stopped.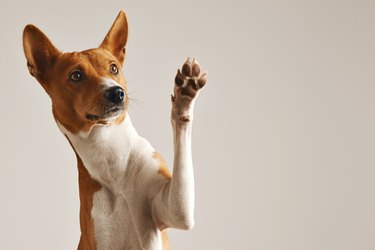 Dog bleeding nail remedies
Although powdery substances work best to help the blood of your dog's injured and bleeding nail coagulate, you can also try rubbing a soft, solid substance into the close-trimmed nail to stop the bleeding. Unscented soap is the perfect substance for this because it also cleans the wound. Scrape your dog's affected nail across a bar of soap until the bleeding slows and stops.
In addition, you can use a wet tea bag to apply pressure to the bleeding until it stops. Afterward, put a little bit of crushed ice within a paper towel and hold it on the nail until the bleeding stops completely. Bandage the nail and keep your dog off of her feet for around 30 minutes.
Avoiding bleeding dog nails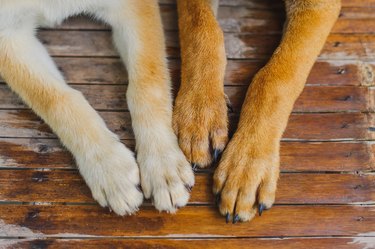 To prevent your dog's nails from bleeding, use sharp dog nail clippers to prevent your dog's nails from splitting or breaking when you clip them. For dogs with white nails, look for the pink quick and cut a few millimeters below it. Dogs with black nails will have a chalky-looking white ring at the base of the nail that you need to avoid.
Even better than a pair of dog nail clippers is a dog nail grinder that lets you gently file the nail down gradually. This helps keep you from cutting too far down and into the quick. Because dog nail grinders are noisy, you may have to train your dog to tolerate them with lots of treats and praise when you use one on his nails.