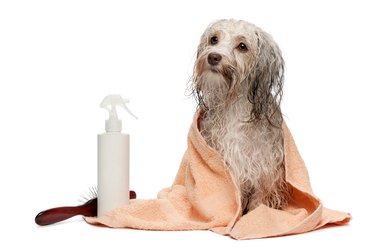 Making a homemade shampoo for your dog is inexpensive and simple. A simple oatmeal-based shampoo is completely safe for dogs and is soothing to dry or irritated skin. You can even make an oatmeal conditioner for your pooch.
Oatmeal Shampoo
Step 1
Pour 1 cup of oatmeal into a food processor or blender and grind it until it is the consistency of flour.
Step 2
Combine the processed oatmeal and a half-cup of baking soda in a bowl and stir until combined.
Step 3
Add a quart of warm water and stir until the ingredients are completely blended.
Step 4
Apply the shampoo to the dog's wet fur and work it in well. Allow the shampoo to sit for five minutes before rinsing with warm water.
Tip
If you prefer more lather, add a few drops of gentle shampoo, such as baby shampoo, to the mixture.
For a more fragrant shampoo, add a few drops of essential oil. Do not use essential oils in shampoo for pregnant or lactating dogs, however.
Oatmeal Conditioner
Step 1
Grind a quarter-cup of oatmeal in a food processor or blender.
Step 2
Pour the oatmeal into an empty shampoo bottle or other squeezable container.
Step 3
Add 1 quart of water and two or three drops of lemon essential oil. Shake the bottle vigorously until the contents are thoroughly mixed.
Step 4
Pour the conditioner over the fur and work it in with your fingers. Once you've thoroughly worked it in, rinse well with warm water.