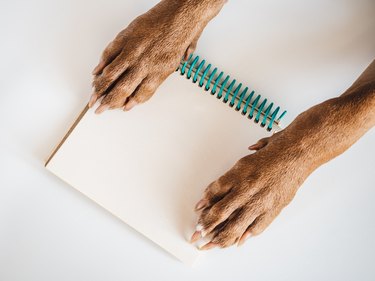 The Chihuahua dog is a bold pup in a tiny body. The full-blooded Chihuahua is a popular breed in the United States, and Chihuahua mixes, like the chiweenie (Chihuahua/dachshund) and the chorgie (Chihuahua/corgi), are increasingly popular as well. Fortunately, the breed has several distinguishing characteristics for which you can look to correctly identify a Chihuahua.
Chihuahuas are one of the smallest dog breeds. In fact, the breed standard only allows dogs to weigh up to 6 pounds. These dogs grow 5 to 8 inches tall. Dogs should have a balanced body shape and be just a bit longer than they are tall.
Features of the Chihuahua head may be the most distinguishing identifiers for these pups. They have a rounded, dome-shaped head and a fairly short but pointed muzzle. Their eyes should be full and round and set wide apart on the dog's head. Their ears are large and erect and angled at about a 45-degree angle coming off the head. The ears can be more vertical when the dog is alert.
The Chihuahua's tail is moderately long. The tail may curl up over the back or be held up or out from the body. The tail does not fall to the ground or between the dog's legs.
There are both smooth- and long-coated Chihuahuas. The smooth coat is short and lays close to the body, giving the dog a sleek appearance. There may be a ruff on the neck. Long-coated Chihuahuas have a straight or wavy coat. The fur should be soft, not wiry. They also have feathering on the legs, fringe on the ears, and a plumelike tail.
Chihuahuas come in any coat color. The breed standard does not restrict any colors or markings.
The dome-shaped head described in the breed standard is often referred to as an applelike head. There is also a deerlike head that is common in the breed. The deerlike head shape is more elongated with a less defined forehead. They also have a longer muzzle compared to apple-headed dogs.
The origin of these two head shapes is unknown. It is important to note that two apple-headed dogs can have deer-headed offspring. The opposite is also true.
Chihuahua temperament and personality
The purebred Mexican Chihuahua has a larger-than-life personality in a small body. While breed is not a reliable indicator of temperament, the Chihuahua is often described as confident, sassy, charming, and graceful. They are affectionate with family and a popular choice for a purse dog. They aren't very open with strangers and are not recommended for homes with young children, though, so make sure you supervise the dog when kids are around.
Chihuahuas tend to be quite vigilant and are known to bark a lot. They have a fairly high energy level, but with their small size, they can burn it off by playing at home or taking daily walks. Keep an eye on the dog during walks and activities. Despite their short legs, they do their best to keep up but may tire and need a rest.
The dogs are very smart and quite independent. They are eager to please, but this independent streak can make training a bit of a challenge. Be sure to use positive reinforcement and be consistent in your expectations for the Chihuahua.