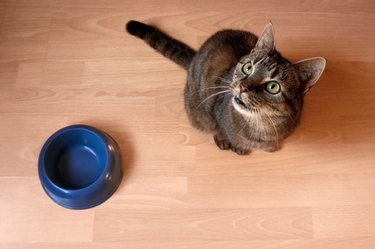 If you are wondering, "Can a cat eat yogurt?" the answer is yes. Plain yogurt is not toxic to cats, and a small amount is fine for them to eat. But just because they can eat yogurt doesn't mean they should. There are some benefits and risks to consider before offering yogurt to your cat.
Plain yogurt is typically made of dairy milk, which is not toxic to cats. It is safe for your cat to have a small amount of milk or yogurt. However, that doesn't mean that yogurt won't upset your cat's stomach. Adult cats are lactose intolerant. While yogurt often has less lactose than other types of dairy, it can still cause discomfort and gastrointestinal symptoms.
If you do allow your cat to have yogurt, make sure to check the ingredients. While plain yogurt is generally safe, flavored yogurt may have harmful ingredients. For example, many have added sugar to sweeten the yogurt, which cats don't have the ability to effectively digest.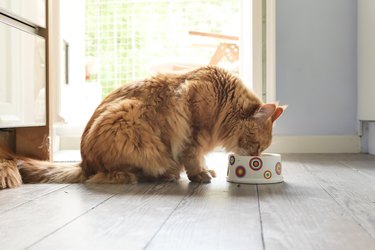 Some artificial sweeteners can also be problematic. Saccharine, or Sweet 'N Low, and aspartame can cause gastrointestinal upset, although they are not toxic. Xylitol is an artificial sweetener that can be extremely toxic and may be found in some types of yogurt.
People may associate yogurt and antibiotics since yogurt products are known to have probiotics that support the beneficial bacteria in the gut. Probiotics are equally beneficial for cats and can help your cat maintain a healthy digestive tract, especially during times of stress, after parasitic infections, and after taking medications, like antibiotics.
However, there are better options for your cat that don't require upsetting the digestive tract with lactose. Probiotics designed specifically for your cat are available in capsules or treat form. You can also get powder probiotics to add to your cat's regular diet.
Yogurt also contains many nutrients that are good for cats, including calcium and vitamin B12. While these nutrients are essential for your cat, if you are feeding her a quality cat food, all of her nutritional needs are being met. If you have concerns about your cat's nutrition, discuss this with your veterinarian.
Alternatives to yogurt for cats
While you can give your cat up to 3 to 5 tablespoons of yogurt each week, there are few benefits to this other than your cat's enjoyment. Your cat is attracted to the fat and protein in the yogurt, and fortunately, there are other options that you can consider that are more beneficial for your cat, less likely to cause an upset stomach, or both.
If you want something close to yogurt or milk, consider a small taste of milk replacement designed for kittens, or KMR milk. You can also purchase treats for your cat. Cats are carnivores, so look for treats that have meat as the first ingredient and avoid options that are high in carbohydrates and fat. If possible, avoid treats with added salt and preservatives.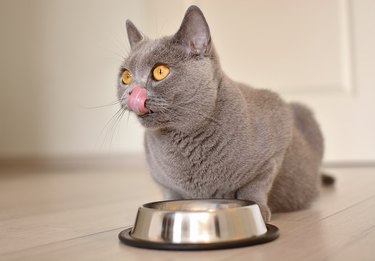 Regardless of the type of treat you opt to feed your cat, make sure to limit the calories from treats to no more than 10 percent of your cat's diet. This is important to prevent weight gain and to ensure he is getting the balanced nutrients he needs from his regular cat food.