​Cuteness may earn compensation through affiliate links in this article.​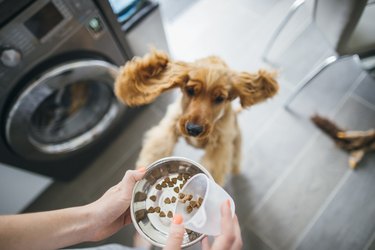 When you adopt a dog, whether he's just a tiny puppy or already a bit older, you want to help ensure your pooch lives the longest, healthiest life possible. One of the best ways to guarantee your pet stays healthy is to get a healthy, high-quality dog food, but with so many options around, it can be hard to know which kind of food to get.
After doing a bit of research, you'll notice probably that many animal nutritionists and vets recommend a high protein food for most dogs who are not overweight, which makes sense given that while dogs have evolved beyond wolves to need other foods in their diet than just meats, animal proteins should still be the cornerstone of their diet. Of course, there are other things to look for when considering foods, so it's important to look at more than just the protein content.
About high protein dog food
The Association of American Feed Control Operators (AAFCO) states that all adult dog foods should contain at least 18 percent animal protein, while foods for reproductively active females and puppies should have a minimum of at least 22.5 percent animal protein. While there are no official guidelines defining what makes something a "high protein" dog food, it should be much higher than these minimums, with most experts agreeing it should have ​at least 30 percent protein​.
Unfortunately, ​not​ ​all proteins are created equal​. Many people switched to grain free foods, and as Pets Lady explains, manufacturers usually do this by replacing the grains with high-protein plant ingredients such as peas, legumes, and beans. But dogs cannot digest these proteins as well and these proteins do not provide enough of certain amino acids, such as taurine, for dogs to get all of their required nutrients. As a result, vets were seeing a drastic increase of deaths related to canine dilated cardiomyopathy, a kind of heart attack.
At press time, the FDA has notified pet food manufacturers about the issue, but no changes have yet been made. Meanwhile, you can protect your pet by purchasing foods that are free of these plant proteins or still have an ​animal protein​ content of at least 18 percent for adult foods, ensure that your senior food has at least 20 percent animal protein, and that and any high-protein puppy food brands you choose have at least 22.5 percent animal protein. If the label doesn't distinguish between animal and plant proteins, you can contact the manufacturer to check it has enough animal protein.
The best high protein foods
When searching for a good high protein food for your pup, Dog Food Advisor suggests not just looking at the protein content, but also ensuring there is a good fat-to-protein ratio, moderate carbohydrate levels, and an above-average meat content. To that end, here are some of the best high protein dog foods:
​Diamond Naturals Extreme Athlete​ contains 32 percent protein and no corn, soy, wheat, or peas. It also contains probiotics and beet pulp to aid digestion as well as kale, blueberries, and other antioxidant-rich foods and flax seed to help reduce a dog's cancer risk.
​Sport Dog Food Active Series Tracking Dog Buffalo & Oatmeal Formula​ has 30 percent protein and lean, iron-rich buffalo meat as the first ingredient. The recipe is designed to be easy for dogs with digestive sensitivities, leaving out pea, flax, corn, gluten, soy, and eggs. Ingredients like organic oatmeal and pumpkin can also result in eased digestion.
​Purina Pro Plan SPORT Formula​ in 30/20 Chicken or Salmon flavor is one of the most affordable foods that is free from peas, legumes, and other high-protein plant foods that still has more than 30 percent protein. It is worth pointing out that it does contain some low-quality ingredients, such as corn gluten meal and brewer's rice that many shoppers find problematic.
Puppy-friendly high protein dog food
While none of the high protein foods on this list are designed specifically for puppies, as K9 of Mine points out, the main difference between a puppy food and an adult food is that puppies need more calories and protein than adult dogs, so many high protein foods already meet these requirements. Large breed puppies have very particular dietary needs to ensure their bones develop properly, so you may want to discuss food options with your veterinarian before choosing a high protein puppy food for large breeds. With that in mind, these are some of the best high-protein foods for the majority of puppies:
While the FDA has found a connection between heart disease and grain-free diets in dogs, some people still feel better feeding their pups a grain free diet. Additionally, some dogs have food sensitivities to grains such as wheat, rice, or corn. If you're looking for a grain-free formula, try to find one that has sufficient animal protein once you deduct the plant protein. These foods are good high-protein options when it comes to grain free dog foods:
​ORIJEN​ may contain a number of plant proteins, including lentils, beans, and peas, however it has an impressive 38 percent protein and 85 percent of all ingredients are animal proteins, including chicken, fish, and eggs. As a result, this food should still be substantially high enough in animal proteins. Plus, this food is grain free and contains probiotics to help digestion.
​Go! Solutions Carnivore Grain Free Chicken, Turkey + Duck​ also contains problematic ingredients like lentils, chickpeas, and peas, but it still contains enough protein from animal sources to make it a quality high-protein dog food. It contains a total of 34 percent protein with 85 percent of this coming from animal sources. It is also free from by-product meals, grains, and soy.
​Nulo Freestyle Turkey & Sweet Potato Recipe​ contains peas, but it has 33 percent protein and 85 percent of that comes from animal sources. The food also has a low glycemic index, which can be useful for diabetic pups and probiotics to help your dog's digestion.
Always check with your veterinarian before changing your pet's diet, medication, or physical activity routines. This information is not a substitute for a vet's opinion.