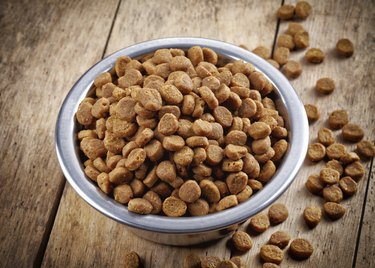 If your dog or cat gets diarrhea or other digestive upset easily from his commercial kibble, he may be sensitive to gluten, which is found in grain ingredients such as wheat and barley. Your vet may recommend switching your pup or kitty to a gluten-free diet. Choices are as close as your nearest pet shop or feed store, with many manufacturers offering gluten-free varieties to cater to sensitive tummies.
The Gluten-Free Pet
Look for companies offering foods made with gluten-free grains such as rice, millet, corn or amaranth. Oats is naturally gluten-free but is often processed on the same equipment as wheat, contaminating it with gluten. In addition to gluten-free foods containing brown rice, Blue Buffalo makes its Blue Freedom line of foods for cats and dogs completely free of any grains. Meat is the first ingredient with veggies and fruits making up the balance. Other brands that you'll find in your local pet store throughout the country include AvoDerm, American Natural, Evo, Natural Balance and Nature's Variety.
Always check with your veterinarian before changing your pet's diet, medication, or physical activity routines. This information is not a substitute for a vet's opinion.