Things You'll Need
Tape measure

Fabric of your choice

Fabric scissors

Iron

Pins

Sewing machine or needle and thread or fabric glue

Ribbons or Velcro

Piping or other decoration (optional)
Tip
In warmer climates you can make the back piece of your crate cover roll up like the front piece for better ventilation.
Crate-trained dogs feel comfortable in their own space. However, the average crate does nothing to improve the ambiance of your home with its stark wire or plastic appearance. A homemade crate cover can be made to match your decor and will protect your pet from light when he wants to sleep. A crate cover also is useful to keep a dog calm while traveling.
Step 1
Wash and dry your fabric to prevent shrinkage later.
Step 2
Measure the top, sides, back and front of your dog crate. Add 2 inches to each measurement to allow for 1-inch seams and hems and write down these measurements.
Step 3
Cut the fabric according to your measurements. Face the wrong side of the fabric towards you, fold over 1 inch on each side then press with the iron. Pin the sides, front and back to the top using the ironed over seam. Put it over the crate and make any adjustments to make it sit correctly. Remove from the crate and sew or glue the other panels to the top. You can add piping into the seam for decoration if you choose. Sew or glue the sides of the back piece to the two side panels. Sew or glue the turned over seams at the sides of the front piece, but do not join it to the side pieces so that it can be rolled up.
Step 4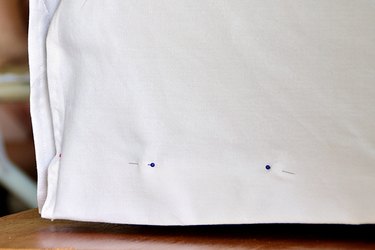 Place the cover back on the crate and check that the hem is even where the cover reaches the bottom of the crate. Make any adjustments and use pins to make everything level. Remove from the crate and sew or glue the bottom hem.
Step 5
Place the cover back on the crate and roll up the front piece. Work out where to place Velcro or ribbons so this can be tied up and sew or glue the fastenings into place. Alternatively you could just place it flat over the top piece.
Step 6
Add decorative items such as bows and appliques. If you will be taking your crate to a dog show, you can use fabric paint or embroidery to put your dog's name or your business name on your dog crate cover.