Tip
To keep your poodle standing and still for measuring, ask another person to feed treats to your dog until you're finished measuring.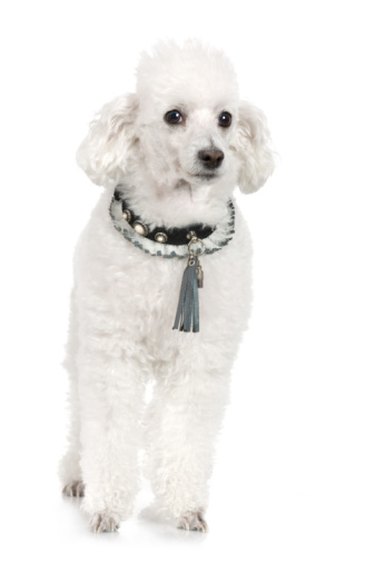 Poodles come in three basic sizes -- Toy, Miniature and Standard. All three sizes share the same traits, including high intelligence, fur growth patterns and color. Size is what separates the poodles. Poodles are measured from their withers, the shoulder blades at he base of a dog's neck. Toy poodles are 10-inches tall or less at the withers. Miniature poodles are between 10- and 15-inches tall. And Standard poodles are over 15-inches tall,but usually between 22 and 27 inches.
Step 1
Put your dog on a flat surface. If you have a Standard poodle, measure on the floor or ground. If you have a Toy or Miniature poodle, lift the dog onto a table or counter top.
Step 2
Find the withers. The withers are the highest part of a dog's back, where a small, bony ridge sticks up at the base of the neck. If you're dog's fur prevents you from seeing this, feel for it with your fingers.
Step 3
Measure your poodle. Place the end of the measuring tape at the highest part of the withers. Stretch the measuring tape to the bottom of table or floor and note the inches. The length will determine your poodle's American Kennel Club regulation size.