The best dog food for your pet is one that's nutritionally balanced and made for your dog's age and stage. That said, it's a good idea to learn how much food to feed your animal every day so you don't go overboard and offer too much or too little kibble. When it comes to human table foods for puppies and adult dogs, always check with the veterinarian to be sure that what you're giving is safe for your pet.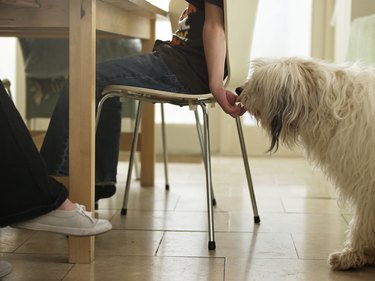 Determining the best dog food portions for your pet may require some experimenting as well as a conversation with your vet. As a starting point, it's fine to check the labels of the food you plan to feed your pup to help with the right amounts. You should always peer at the contents of his food dish and check his reaction before you serve dinner each night. If he finishes his meal in just a few seconds and seems hungry for more, you might offer another scoop. If your dog lets the kibble sit around, he may be getting plenty.
If you're a math type and want to measure an exact amount for your dog based on his weight, there's a formula that takes into account the energy needs of an adult dog who is spayed or neutered and gets regular daily exercise. Multiply 30 by your dog's weight in kilograms (or for pounds divide by 2.2) and then add 70. The result will be your pet's daily caloric needs.
The next considerations when it comes to figuring out the best dog food servings for your pet are to note his age, size, and activity level. A puppy should be fed food with a higher calorie content as well as more protein and nutrients since she's growing quickly in the early months. A senior dog can (and should) eat less and still maintain a proper weight.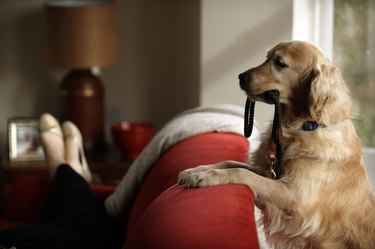 As for canine types and the best dog food to give, know that an active breed, like the Belgian Malinois or vizsla, lives to run and play and will need more calories in her diet and slightly larger portions of food. A pup who is happy to sit on the couch (think of a slow-moving basset hound) should probably have smaller amounts at mealtime.
You'll also want to examine your dog to see how she looks physically. A new rescue pup may be thin with ribs showing, which means more food is needed, while a plumper pup can enjoy less kibble.
Choosing whether to serve wet canned food or dry dog chow is a matter of personal preference, though you can always ask your pet's vet for guidance. Nutritionally, the cans and dry bags are exactly the same, so pick the one that works best for your budget and lifestyle. If your dog has a dental issue, such as hardened plaque on his teeth, a diet of dry food may be recommended since some of these formulations are made to help remove this sticky substance.
Take care with table scraps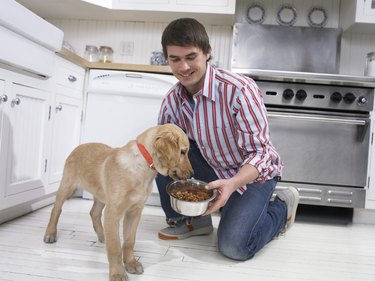 You may think you're treating your dog to something special by sneaking human food into his dish, but too many table scraps can add excess weight to your dog's frame, and some of these foods can be downright dangerous. Ones to skip include salty nuts, especially macadamias; chocolate (it can cause diarrhea and vomiting); and garlic, which is five times more toxic to dogs than its relatives (onions, leeks, and chives). Skip ice cream for dogs, as it's too sugary, and some animals aren't able to tolerate the lactose found in this product.