Tip
Wash your dog run once a week to keep the urine odor neutralized. If the odor is very bad, mix the vinegar and water solution stronger.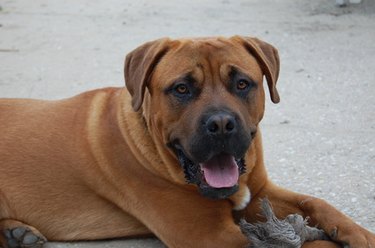 ​Disclosure: At Cuteness, we are committed to being the go-to resource for pet owners and animal lovers. We only recommend products we think our audience will love. If you purchase something by clicking on one of these links, we may receive a small commission of the sale and the retailer might receive some data for accounting purposes.​
For dog owners, one of the most challenging tasks can be neutralizing dog urine in a dog run. Dog urine is very acidic and can produce a harsh odor, especially during the summer. When temperatures get higher and the urine odor becomes stronger, remove the odor as quickly and effectively as possible. You can neutralize dog urine by using simple household items that will not cause harm to your pet.
Step 1
Remove your dogs from the dog run you want to clean, which will allow you to thoroughly clean and neutralize the run.
Step 2
Spray the area with a water hose using cold water to remove the standing urine. Use a spray nozzle to make cleaning easier.
Step 3
Mix three cups of water and one cup of vinegar in a large container. Use white vinegar since it naturally neutralizes the active enzymes in urine that cause odor and is also safe for use around dogs and other pets.
Step 4
Apply the mixture liberally to the area where the urine was located. Allow this to sit until the area is dry. If needed, reapply the mixture until the odor is neutralized.
Step 5
Combine one cup of hydrogen peroxide and two drops of dishwashing liquid in a container or spray bottle. Use this to clean the urine spots that remain on the dog run.
Step 6
Sprinkle baking soda on any area that has been saturated with urine. Make a paste with the peroxide mixture. Use a scrub brush to remove any urine stains. Allow this mixture to dry to a white powder.
Step 7
Rinse the dog run with clean, cool water to remove the mixtures. Use this as often as needed to neutralize dog urine in a dog run.
Getting rid of the smell with products
If you want to get rid of the dog urine in your dog run but would rather use professional-grade products, then try Simple Green Outdoor Odor Eliminator for Pets. It's best for artificial grass and patios, and will quickly remove your odor smell and leave your outdoor area smelling fresh instead. It's safe to use on a number of different surfaces like grass, concrete, artificial turf, gravel, and brick, and it's made of a non-toxic formula that won't harm your dog.
You could also use ANGRY ORANGE Ready-to-Use Citrus Pet Odor Eliminator Pet Spray, which works inside and outside. This spray has over 20,000 ratings on Amazon, as well as an average rating of 4.5 stars. It can be used on grass, carpet, tile, driveways, and pens, and, since it's made from oranges, it smells like fresh oranges when you spray it all around.