If you sneeze whenever you're near a dog, you're not alone. According to the Asthma and Allergy Foundation of America, up to 30 percent of Americans are allergic to cats and dogs (although twice as many people are allergic to cats than dogs). Don't let your dog allergy get you down. There are many dog breeds from which to choose that are less likely to trigger your allergies.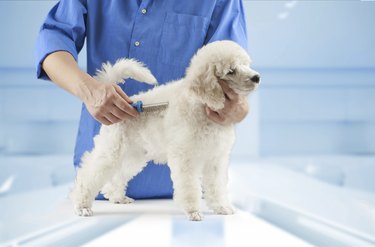 Your immune system's job is to detect foreign substances, such as pathogens, and to protect your body from harmful invaders. If you're allergic to dogs, you have an oversensitive immune system, and it's reacting to a harmless protein found in dog saliva, dander, or urine. Contrary to what you may have heard, pet hair is not an allergen. It can, however, hold allergens, such as dander, dust, and pollen, which may trigger an allergic reaction in a sensitive person.
The symptoms you have during an allergic reaction are your body's attempt to prevent foreign substances from entering your body. If you are sensitive to pet allergens, you might even have an allergic reaction if there's no dog around. The presence of an allergen on someone's clothing is enough to trigger a reaction.
Symptoms of a dog allergy
The symptoms a person has when experiencing an allergic reaction depend on what part of the body comes in contact with the allergen. On contact, the allergen triggers an inflammatory response, such as redness, swelling, itchiness, or pain. An inflammatory response causes a variety of symptoms:
Sneezing
Itchy nose
Itchy eyes
Coughing
Wheezing
Shortness of breath
In particularly sensitive people, inhaling an allergen from a dog could trigger a severe asthma attack or lead to chronic asthma with repeated exposure. If you're one of these people but nothing can come between you and dogs, you might want to look at the best dogs for asthma sufferers.
Finding out you're allergic to your dog probably isn't the news for which you hoped, but there are things you can do to reduce your symptoms. First, find out exactly what you're allergic to. There are other things in your house that could trigger allergies, so only focusing on your dog won't do anything to reduce your response to other triggers.
Make your bedroom a no-dog zone. Most people spend at least a third of their life in their bedroom, so if you're going to have a place in your home that's free from allergens, the bedroom is a good choice. Use a HEPA air purifier in your home. It can help remove impurities from the air, including pet allergens. Clean your home frequently, including carpets and curtains to which pet dander can cling.
Ask your vet how often you can safely bathe your dog. Frequent bathing reduces how much hair your dog can shed around your home. If there's concern about stripping your dog's lipid barrier, regular brushing should help minimize shedding. Consider treatments to reduce your response to allergens, such as oral antihistamines, steroidal nasal sprays, or immunotherapeutic injections.
Best dog breeds for allergies
While some breeds might be less likely to trigger a person's allergies and some people might only be sensitive to some breeds, there is really no such thing as a hypoallergenic dog breed. If you're allergic to dogs, you might have better luck with one of the best low-shedding or non-shedding dog breeds:
Poodle
Yorkshire terrier
Maltese
Bichon frise
Schnauzer
American hairless terrier
Chinese crested
Irish water spaniel
Portuguese water dog
Soft-coated wheaten terrier