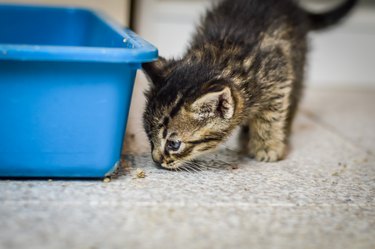 If your cat is spraying your clothes, he could be telling you that he is stressed, or he could simply be marking his territory. While addressing this behavior is important, you must act quickly to remove the stain and smell from your clothes. The longer it soaks in, the stronger and more set the odor becomes.
Does washing clothes get cat pee out? If you put your clothes in the wash right away, the cat pee stain may wash out, but there is a good chance there will be some lingering odor. So, how do you get cat pee out of clothes? The first step is to pretreat the clothes to neutralize the odor and prevent the stain from setting in. There are a few effective options you can consider:
​Baking soda.​ Baking soda is known for its ability to remove odors, and most people have a box on hand. Make a thin paste by mixing baking soda with water and applying it to the urine stains on your clothes. Let the baking soda sit on your clothes for 15 to 20 minutes.
​Vinegar.​ Vinegar is another effective option. Treat the stain with a mixture that is one part vinegar and three parts water or create a paste by mixing 1/4 cup each of vinegar, table salt, and borax.
​Enzymatic cleaner.​ Another option to consider for how to remove cat urine smell from clothes is to purchase an enzymatic cleaner formulated for pet stains and odors. These cleaners break down the compounds in the cat spray that cause odors. Follow the package instructions for application.
Wash and dry the clothing
After you have pretreated your clothes, it is time to put them in the washing machine. You can use your regular detergent or an enzymatic laundry detergent if you have one on hand. Some enzymatic cleaners for pets can be added to your laundry, so be sure to check the product label for instructions.
Keep in mind that heat can set the stain and the odor, so use cold water to wash your clothes until you are certain the odors have been removed. Air dry your clothes or put them in a dryer on the no-heat setting. Once your clothes are dry, check each item to see if there is any remaining odor from cat spray. If so, pretreat and wash your clothing again.
Check for additional cat spray
If your cat has sprayed urine on your clothing, there is a chance that some surrounding surfaces were also sprayed with urine or that the urine had soaked through the clothes. Use a black light to check the room for any additional areas where your cat may have sprayed. Be sure to thoroughly clean these spots as well. If you don't, the odor will attract your cat back to the area to spray again.
Prevent spraying on clothes
If your cat is spraying on your clothing, it could be a territorial behavior, and neutering your cat may help to resolve the issue. There are some other potential reasons your cat may be urinating outside of his litter box.
He may not like his litter box. If you have multiple cats, make sure you have a litter box for each cat plus one additional box. Scoop out the litter boxes each day. If you recently changed the type of cat litter you buy, it is possible that your cat doesn't like the smell or texture of the new litter.
Take your cat to the vet to rule out any medical conditions that can cause inappropriate urination. Some examples include bladder infections, diabetes, kidney disease, and bladder stones.