When you think about frog muscles, those muscular frog legs that can initiate a leap up to 44 times its body length probably come to mind. Although skeletal muscle is key in a frog's day-to-day survival, cardiac and smooth muscle also play essential roles in a frog's existence.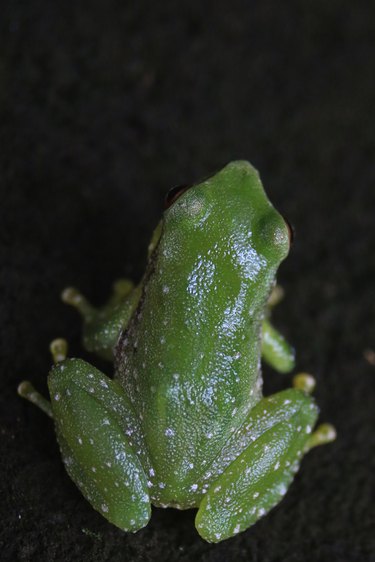 Like humans, a frog's quadricep muscles are the largest and strongest in the body. Many other muscles in a frog's body have the same name and function as those in the human body, such as biceps, triceps, gastrocnemius, and rectus abdominis. Other muscles in a frog's body have unique forms and functions that are much different than humans.
Those muscular frog legs are made up of striated muscle, consisting of fibers that attach to the skeleton. The muscle gets its name because each fiber has alternating dark and light stripes, known as striations. This type of muscle makes up the majority of muscle, including the pectoral or chest muscles of a frog, the abdominal muscles, and the "arm" muscles.
Striated muscle is voluntary muscle fiber, meaning a frog can activate the muscle consciously as he jumps after his prey or to avoid becoming prey himself. The muscle fibers occur in pairs and are attached to the skeleton by tendons. The pairing of the muscles is crucial to movement, as one serves to extend a limb, for example, while the other contracts it back again.
Each striated muscle fiber in the frog's body is surrounded by a multilayered sarcolemma that is rich in adenosine triphosphate (ATP). The ATP provides the energy required to move the muscle as it receives electrical impulses from the brain to do so.
Muscles for bodily functions
When it comes to such things as digestion, elimination, and other subconscious body functions of a frog, the tasks are performed by smooth muscle. These muscles don't have striations, and they operate automatically. Smooth muscle is found in the digestive tract, blood vessels, and organs.
The way a frog's muscular system performs these autonomic functions of keeping it alive are much different than the way our own muscles function. For example, when frogs eat something, their eyeballs recede down into their mouth and push the food down the throat. In addition to breathing with lungs, frogs also breathe through their skin and special areas of their mouth where blood vessels take in oxygen and secrete waste products.
Frog lungs are directly connected to the eardrums. The lungs vibrate like the eardrum and equalize the pressure on both sides of it. That makes it possible for frogs to make those loud, croaking sounds of up to 100 decibels — roughly as loud as a chainsaw — without hurting their own ears.
The cardiac muscle of frogs is the third type of muscle system in a frog's body. Although it keeps the heart beating automatically, the cardiac muscle looks more like striated muscle than smooth muscle. Cardiac muscle is different from the pectoral or chest muscles of a frog, which are striated.
Frog hearts are different from humans in that they have only three chambers instead of four. A four-chambered human heart keeps oxygenated blood from the lungs and deoxygenated blood returning from the body in separate chambers. In frogs, both oxygenated and deoxygenated blood mixes in one ventricle.
Special grooves in the frog's one ventricle keep the oxygenation process flowing smoothly. Deoxygenated blood is sent to the skin for reoxygenation. Oxygenated blood coming back to the ventricle is sent to the vital organs and throughout the body.