If you give your pet a patriotic name, you'll remind yourself of all this country has to offer every day of the animal's life. Unfortunately, it might be easier to find patriotic dog names for a male than a female pet, but nevertheless, there are options out there, including gender-neutral terms that could fly the patriotic flag for anyone. Whatever patriotic name you choose, make sure it's easy for your pet to understand and doesn't consist of more than a syllable or two. Of course, you can have the formal pet name, and use a diminutive as the call name. Call names are more important for canines than felines, as cat owners know.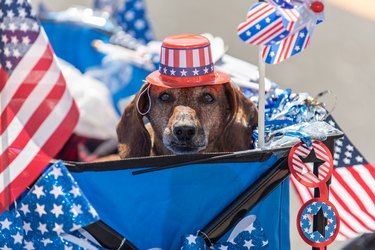 Patriotic male and female dog names inspired by American values
If you consider yourself a patriot, dog names that embody the patriotic ideals this country was founded on is a great place to start stirring up inspiration. Take a hint from President Gerald Ford and name your pet Liberty. Or keep it on the nose by simply calling them Patriot — there won't be any reading between the lines with that one! Any of these patriotic dog name options make great choices for male and female dogs, especially if they embody some part of the term in their personality, behavior, or character.
Freedom

Glory

Independence

Liberty
Patriot
Victory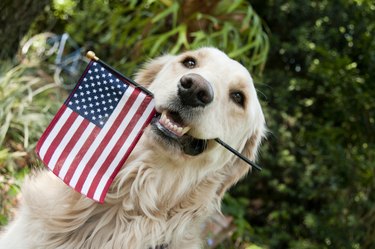 Presidential-inspired patriotic dog names
Certain presidential surnames make wonderful pet names. Think Lincoln, Madison, Monroe, Jackson, along with lesser-known presidents such as Tyler, Taylor, or Arthur. Other possibilities include Taft, Wilson, Hoover, Truman, Reagan, Bush, and Clinton. Again, there's a lack of suitable female names (unless you choose your name based on the First Lady!), but Roosevelt is easily shortened to "Rosie," and Kennedy is appropriate for either gender. Play around with these names, or let them inspire you in your own journey toward a patriotic dog name for your canine pal.
Abe

Adams

Barack

Buchanan

Bush

Carter— Named after the 30th President Jimmy Carter, who worked with his wife, Rosalynn, to build homes through Habitat for Humanity.
Chester

Clinton

Coolidge

Donald

Eisenhower

FDR

Ford

Franklin— Ben Franklin opened the first lending library in the United States in 1731.
Garfield

Grover

Harrison

Hoover

Jackson

Jefferson

JFK

Kennedy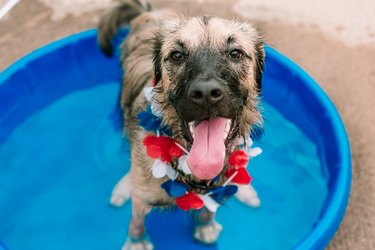 Lincoln

Lyndon

Madison

McKinley

Millard

Monroe

Nixon

Obama

Pierce

Polk— Our 11th President James Knox Polk supported the removal of Native Americans as well as the expansion of slavery, so, not our first pick for a dog name.
Quincy

Reagan

Ronald

Roosevelt

Rutherford

Taft

Taylor

Teddy

Truman

Trump

Tyler

Ulysses

Van Buren

Warren

Washington

Woodrow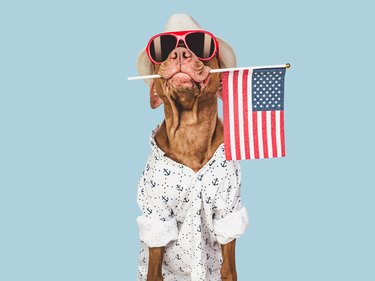 Patriotic female names for dogs inspired by First Ladies
Female dogs will have a harder time finding Presidential-inspired patriotic names for obvious reasons, but the First Ladies of the U.S. can offer some inspiration for patriotic dog names or girls. Many of the women on this list made great advancements for their time, and offer dignified names for any dog in need of a moniker. Check out this list for inspiration, and get creative when searching for a patriotic dog name for your canine pal — consider her personality, demeanor, and overall energy for the perfect fit.
Abigail

Anna

Barbara

Betty

Caroline

Claudia

Dolley

Edith

Eleanor

Eliza

Elizabeth

Ellen

Emily

Florence—Florence Harding served as First Lady from 1921 to 1923 as the wife of President Warren G. Harding
Frances

Grace

Harriet

Helen

Hillary

Ida

Jackie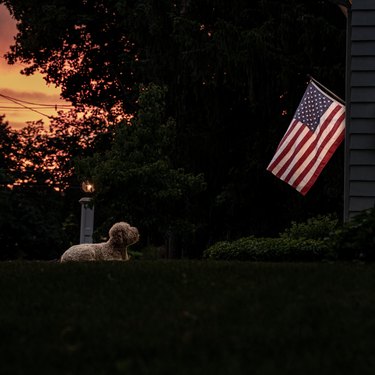 Jane

Jane

Julia

Laura

Letitia

Lucy

Mamie

Margaret

Martha

Mary

Melania

Michelle— Michelle Obama is an attorney and the first African-American woman to serve as First Lady, ever, during both Obama administrations.
Patriotic names for male and female dogs inspired by military heroes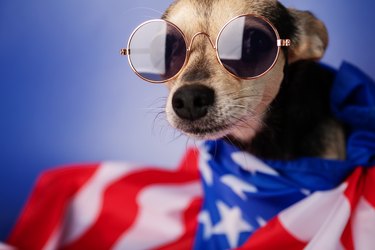 Honor your country by naming your pet after a military hero. From the Civil War, there's Grant, Sherman, and Meade. From the First World War, there's Pershing, although "Black Jack" is a fine name for a dark animal. If naming your pet after a World War II general, consider "Eisenhower," but shorten it to Ike. You could name a female pet "Patton" and call her Patty, and the diminutive of Marshall could be "Marshy."
Ace

Admiral

Alpha

Bravo

Bullet

Campbell

Captain

Charlie— A term that represents the letter "C" in the NATO phonetic alphabet.
Colonel

Colt

Commander

Dagger

Echo

General

Gordon

Grenade

Hampton

Hero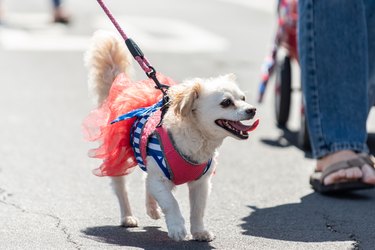 Knox

Lewis

Major

Private

Ranger

Remmy

Ricochet— When a projectile, like a bullet, hits and bounces off of something, and could be shortened to "Rico" for a canine pal.
Rocket

Romeo

Sailor

Scout

Sergeant

Sierra

Soldier

Striker

Tango

Tank

Trooper

Do you need more inspiration for your new pet's name?
Pets are like our children. We love them, care for them, and we get to dress them up in adorable outfits — if that's a thing we feel like doing! So it's extra important that we take time to find the perfect name that reflects our new pet's personality and potential. Naming can be hard, which is why we've gathered nine pet-naming techniques to find the perfect fit, as well as assembled a handful of our most beloved lists of pet names!