Ducks are intelligent and affectionate pets who will stick by your side once they bond with you. Their cuddly nature makes them an ideal pet to hold on your lap while watching a movie or for snuggling during a nap. The idyllic scenario can screech to a halt when your duck poops out watery, smelly feces as often as every five minutes or so. Although ducks are intelligent, they don't have the muscle structure required to control their feces, but there are solutions so you can pleasantly enjoy your duck indoors.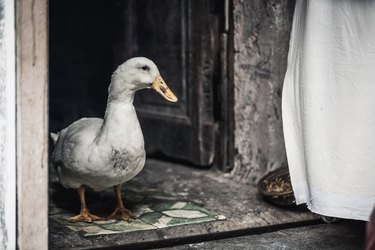 Understanding duck anatomy
Although a duck's digestive system contains many of the same organs as mammals, the process of eliminating feces and urine isn't the same at all. Humans, dogs, cats, and other mammals have separate orifices through which they eliminate waste products. A duck's cloaca is multiuse, providing a way for eggs, feces, and urinary waste to exit as well as for sperm to enter.
Inside the duck's vent, the three systems are somewhat separate. Some of a duck's liquid waste products are fed into the cecum, where electrolytes and some liquid are reabsorbed for use by the body. It's here that the liquid waste meets and combines with the digested matter for elimination. The waste matter then proceeds to get eliminated.
In mammals, small amounts of fecal matter collect and are stored in the rectum until there is sufficient quantity to produce pressure, and the mammal feels the urge to "go." They then consciously leave their den and locate an appropriate place to relieve themselves. Ducks don't have a rectum; instead, they have a valve at the end of their digestive system that is forced open and extrudes through the vent by fecal pressure. This happens every five to 10 minutes in ducklings and several times hourly in adults.
Would you house train a duck?
The fact that ducks don't have a rectum or a sphincter means they're a slave to the pressure of the feces (or egg). The greater pressure of an egg being released keeps the rectal valve closed while the egg is passing through and explains why ducks usually defecate on their egg immediately after it emerges. They have no musculature to consciously control the timing of what's happening. Ducks don't even use a nest box; they squat and drop their egg whenever the urge hits.
Ducks can be trained to do a number of things, but potty training isn't one of them due to their lack of rectum and sphincter. Online articles about behavioral training and rewarding your duck for making progress in the right direction don't apply to what comes out from under their tail, as it's an autonomic function of their peripheral nervous system. So ... how would you house train a duck?
Watching a 90-minute movie holding a duck that squirts out liquid feces every five minutes or so can be the antithesis to an enjoyable evening without something to prevent the slimy goo from getting splattered all over your furniture and yourself as well.
Go online and buy a couple of duck diaper harnesses for your pet, making sure it has a waterproof outer layer. You can cut disposable diapers to use as liners inside the diaper harness. Although your duck won't like the harness at first, rewarding him with treats immediately after putting it on will help him adjust to the device. One diaper lasts most ducks three to four hours during active daylight hours or overnight when resting and having limited access to food.
Your duck should have several hours each day to enjoy undiapered freedom and be able to fully preen and oil his feathers. Give your pet time out in the duck yard or make an area of your home where he can roam without a diaper and where the droppings can be easily cleaned up.