How to Prevent Hair Loss From a Dog Collar
Dog collars are important for your dog's safety and identification, but they should not cause your pet discomfort or hair loss. Your dog's collar should not pinch, choke, or hurt them in any way.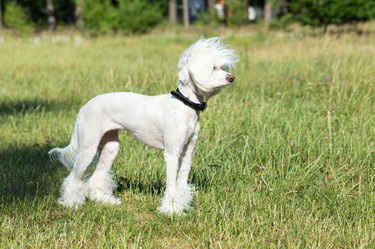 If your dog is balding because of their collar, it is a sign that something is wrong, and you should take your dog to the veterinarian for a diagnosis. Work with your veterinarian to determine what underlying problem is responsible for the hair loss and how to correct the condition so the hair can grow back. It could be something as simple as the content of the dog's collar or something more complicated, such as an allergy, mites, or infection.
Ensure a good dog collar fit
Your dog's collar should fit comfortably but tightly around your dog's neck. It should not be loose enough to slip off nor so tight that it impacts your dog's skin or quality of life. You should be able to fit two fingers comfortably between the collar and your dog's neck. Check and adjust the collar periodically to make sure it fits well as your dog grows or as they gain or lose weight. Your dog's collar should be tight enough for safety but loose enough for comfort.
If your dog's collar is too tight, it is possible that it will cause hair loss or even cut into the skin, creating a bald spot or wound. If you believe your dog's hair loss is the result of a collar being too tight, remove the collar immediately and contact your veterinarian for advice.
Possible allergic reactions to dog collars
Sometimes, dogs can have an allergic reaction to collars, leading to hair loss and bald patches if they contain any type of medication. Flea bites can irritate skin, and flea and tick collars themselves may have this effect on some dogs because of the chemicals they contain. This condition is called a contact allergy and can cause hot spots, scratching, itchy skin, and hair loss. If the hair loss is caused by allergic reaction, removing the dog's collar should eliminate the problem. Note that it may take time for your dog's hair to grow back as the hair follicles recover.
Dog owners can also try to relieve adverse skin conditions by using a collar that's made from a different type of material. If the current collar is cotton or hemp, you can try nylon. You can also buy collars without metal if you suspect your dog has a metal allergy. Using a harness when walking your dog to disperse the pressure around your dog's neck area might also be helpful.
Other reasons for dog hair loss
An assortment of medical conditions can lead to skin problems that cause dog hair loss. "Another common cause is moisture dermatitis and secondary bacterial and yeast infections from not allowing the area and collar to properly dry after swimming or bathing," says Dr. Jordan Kautz, a veterinarian at Crestview Veterinary Clinic in Austin, Texas. "Remove the collar and let it dry as well as properly dry your dog's neck before replacing their collar." While the area under the collar might initially appear to be the only area affected by hair loss or balding, that doesn't mean it will stay that way.
There's always a chance the hair loss isn't caused by the collar at all. For example, a dog might be under severe stress, which can cause alopecia — a disease caused by a dog's immune system that attacks their hair follicles. Or they may have an infestation of demodex mites which leads to the condition known as mange. This is yet another reason that it's so important to seek medical advice.
If you're trying to figure out the causes of hair loss, it's best to take your dog to the veterinarian to be properly diagnosed. Causes of hair loss include mange, mites, fungal infections, Cushing's disease, and ringworm. These conditions may not improve on their own and can get much worse over time if not treated.
If balding under a dog collar should occur, it could be caused by an array of problems, such as being too tight or from wearing a wet collar after bathing or swimming. Hair loss and skin conditions found under your dog's collar could also be caused by something more severe, such as an allergic reaction to chemicals in the collar or an underlying bacterial infection. If you notice your dog has hair loss underneath their collar, it's always best to take them to your DVM for a diagnosis and advice on how to treat your dog's skin as well as to discuss preventative measures to avoid future hair loss.