Pumpkin is a great source of fiber not only for people, but also for dogs. If your dog has tummy issues, adding a scoop of pumpkin to his dry food could help calm the belly and firm up any loose stools. But some dogs simply don't enjoy the taste of plain pumpkin. For those finicky pups, you can take a stab at baking your own pumpkin dog treats. Not only is baking for your pets fun, but homemade treats are free of additives and preservatives which makes them healthier than store bought treats. See how much this cute doggie, Murphy, loves his treats!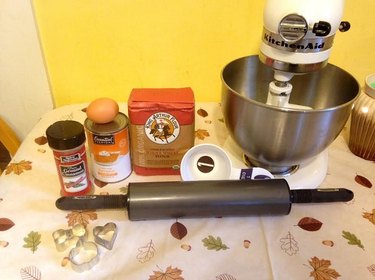 Things You'll Need
Cookie sheet
Rolling pin
Measuring cup
Stand mixer or spoon and bowl
Small cookie cutters
2 1/2 cups whole wheat, or all purpose flour
1 cup 100% pure pumpkin, canned
1 teaspoon cinnamon
1 egg
Step 1:
Preheat oven to 350 degrees F.
Step 2:
Combine pumpkin, cinnamon and egg in the bowl of a stand mixer, or a large bowl if you are mixing by hand. Mix until blended.
Step 3: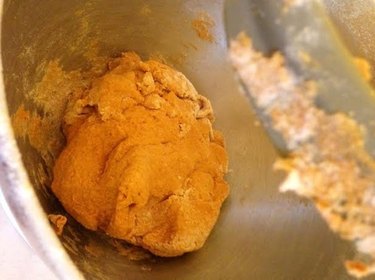 Add flour 1/2 cup at a time into the bowl until stiff dough forms.
Step 4: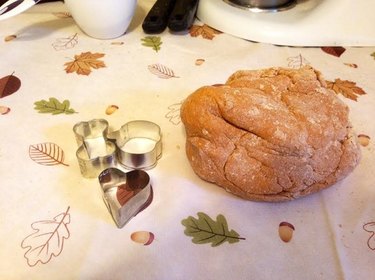 Roll the dough out onto a lightly floured surface to about 1/2 inch thick.
Step 5: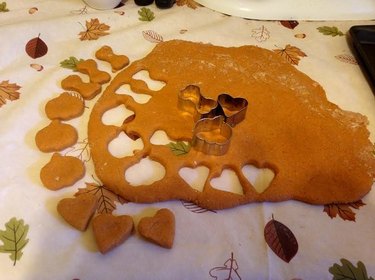 Use small cookie cutters to cut the dough into bite sized treats.
Step 6: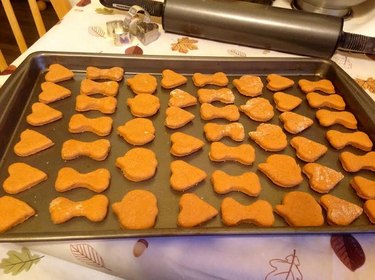 Line dog treats 1/2 inch apart on a non-greased cookie sheet. These treats won't expand so you don't have to worry about them being so close together.
Step 7: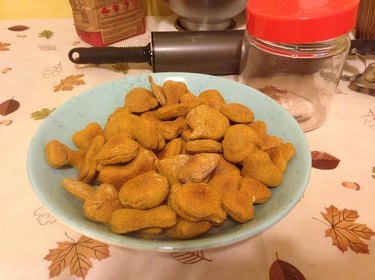 Bake for 25-30 minutes or until treats are golden brown. Turn the oven off and leave the treats in the oven for 1-2 hours to allow them to become crunchy. Then remove from the oven and let cool.
Step 8: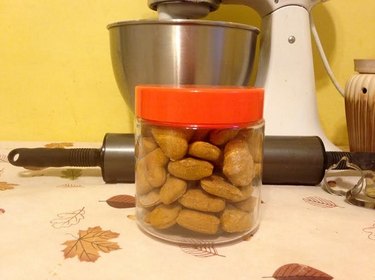 Store treats at room temperature in an air tight container for up to 2 weeks, or store in the fridge for up to a month.