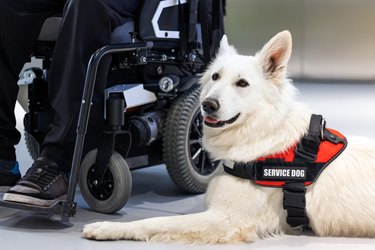 The requirements to qualify a dog as a service animal vary depending on the jurisdiction and type of service the dog performs. For example, the Americans With Disabilities Act does not consider emotional support animals or other pets aimed at providing psychological therapy to be service animals. The best way to find out if your dog needs a service dog qualification starts with deciding what type of service you want the animal to provide and then looking at the requirements.
Service dogs vs. emotional support pets
A service dog provides a specific, hands-on type of action that helps people with physical tasks, whereas an emotional support, comfort, or therapy animal often simply needs to be present to help a person cope with a psychological situation.
Emotional support pets can be trained to provide some service help, but based on the fact that these animals can include emotional support snakes, hamsters, pigs, and birds, their main goal is to provide psychological assistance. An example of the type of physical help a service dog provides would include a dog who helps blind people go for walks, cross the street, and avoid obstacles.
The Americans With Disabilities Act
The ADA defines a service dog as one who provides a service specific to the disabled person's condition. For instance, service dogs may alert a diabetic owner to low blood sugar levels, protect epileptics during seizures, and remind patients suffering from depression to take their medicine. Dogs who help unsighted people, for example, learn how to recognize when a crossing signal at an intersection means walk or stop.
Look for a training program
While you can try to train a dog to become a service animal on your own, having help from experts might be most effective. This type of training can take months to complete. These programs help dogs learn basic obedience commands and behaviors. Dogs also learn how to socialize with other animals and humans and how to perform specific work-related tasks, such as managing stairs, crossing streets, and using public transportation.
In addition to training your dog, you'll learn how to properly interact with and handle a service dog. This training makes these dogs more passive in terms of less barking at other animals, people, or vehicles; less begging for food; lower excitement levels when meeting people and other animals; and no sniffing of people and objects. If your dog constantly needs to be restrained and barks and lunges at people and other animals, this behavior will have to be trained out of her.
If you are training your dog for your personal use as a service dog, find credible websites, including those with instructional videos, to help train your dog as a service dog. Use keywords that are specific to your purpose, such as:
Wheelchair
Disabled
Blind/unsighted
Epileptic
Diabetic
Elderly
Deaf/hearing impaired
Wounded veteran
Couple these words and phrases with "service dog training" and "dog training" to get better results. You will find instruction on how to train a dog to sit while you walk up to 6 feet away; help you enter and leave buildings; heel, sit, and lie down on command; and tug a leash or nudge you as a warning sign.
If you have not yet adopted a dog to be your future service animal, talk to a dog trainer, behaviorist, vet, or breeder to discuss your situation. Some dogs have long breeding histories as retrievers, guard dogs, herders, carriage dogs, or hunting dogs. Make sure you choose a pet who will have the temperament and physical abilities to do the job(s) you will need him to handle.
In addition to at-home training, you'll need to do some training in public in the situations in which you'll need the dog to perform. For example, if you're going to need your service dog to help you use public transportation, practice during off-peak hours and let drivers and conductors know that you are practicing with a trainee dog. Buy a service dog vest to identify the pet as a service animal. Many people know not to pet or play with service dogs.
From time to time, you might be asked for proof that your dog is a qualified service animal, and you'll want to have some type of legitimate ID you can present. In most cases, you can't be denied access to public areas if you have a trained service dog even if you don't have any papers.
Many for-profit groups offer to "certify" that your dog is trained as a service animal and provide you with a certificate to print. Ask your vet, groomer, professional pet sitter, trainer, breeder, or behaviorist for a recommendation to make sure you get a legitimate certificate from a licensed/qualified trainer. You may choose to register your dog with the National Service Animal Registry, but it's not required by law.
Check your state's laws regarding service animals to learn what you need to do to make sure your dog is allowed to assist you in public per your state's laws. For example, the State of Georgia ADA website provides a list of qualified training organizations for Georgia residents.