Shorkies are also known as shorkie Tzus or Yorkie Tzus. What is a shorkie dog? They are a loveable hybrid dog breed obtained from Yorkshire terriers and Shih Tzus. Yorkshire terriers and Shih Tzus are in the toy category, so the crossbreed shorkie dog falls under the toy category too.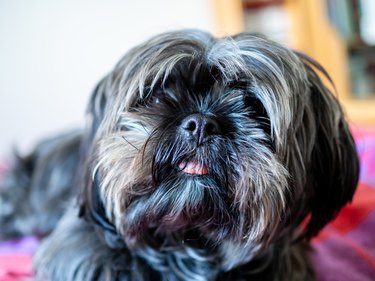 The feeding schedule and amount of food shorkie puppies need differ from the requirements of full-grown shorkies. In addition to extra nutrition for healthy growth during puppyhood, shorkies need frequent meals to maintain their blood sugar at a normal level and prevent a hypoglycemic coma.
Type of food for shorkie puppies and adults
Typically, during the first six to eight weeks, shorkie puppies are with their mother and siblings, and for the first four weeks, they receive milk from their mother. During the first four weeks, your puppy doesn't need anything other than dog milk. If the puppy is orphaned, you'll need to buy a dog milk replacer.
Starting from week five, introduce a small portion of dry food but soak it in some water so that it's easier for your puppy chew. Feed your shorkie premium dry food formulated for the growing stage of small-size dogs. Some brands of dog food sell food formulated especially for toy breeds of dogs, including shorkie dogs. Whichever food you choose for your dog, it must ensure harmonious skeletal and muscle development. The protein content of puppy food should be between 25 and 30 percent. Check if the ingredients are USDA inspected.
When the puppy is 8 weeks old, they should only eat dry food. Small dogs, such as shorkies, reach maturity between the age of 9 and 12 months. When the puppy reaches maturity, they should get food for adults. As they grow into their senior years, look for a food that is formulated for aging extra-small dogs.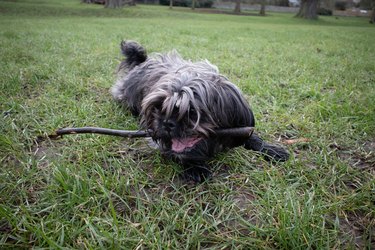 How much food to feed shorkie puppies and adults
In the first weeks of life, puppies consume dog milk, getting the necessary amount of calories and nutrients from their mother. However, if the shorkie puppy is orphaned, you need to feed them a milk replacer. The amount fed depends on age and weight, so follow the directions on the puppy milk replacer and adjust the amount as your puppy develops.
Once your puppy has reached 5 weeks of age, free-feed them until they've reached 3 months of age. From the 3-month mark until 6 months of age, your puppy should be fed four times a day, following the serving size suggestions on the back of the puppy food.
From 6 months of age into adulthood, it's important to continue feeding your shorkie multiple times a day. When your shorkie is full grown, the right feeding schedule and amount of food will depend on your dog's size, age, and lifestyle, so talk with your veterinarian about their ideal weight and serving sizes.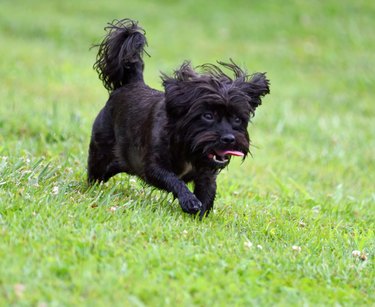 How often to feed shorkie puppies and adults
During the first four weeks, shorkies will nurse every two hours. If the puppy is not with their mother, feed them a milk substitute every two hours. From 5 weeks of age to 3 months, your puppy may be free-fed. When your shorkie puppy reaches 3 months, reduce the feeding frequency step by step until you feed your shorkie three to four times per day.
You can give your puppy small treats between meals but don't free-feed them. Adult shorkies should eat at least twice per day, with smaller shorkies requiring three to four small meals per day. Full-grown shorkies and puppies can experience sudden drops in blood sugar if not fed frequently enough.
Shorkies and hypoglycemia
Feed your shorkie according to the recommended frequency because puppies between 6 and 12 weeks of age are prone to hypoglycemia or low blood sugar. Shorkie puppies who stay small could even experience hypoglycemia at an older age. Hypoglycemia may also be triggered by stress or a diet that lacks proper nutrients.
Watch out for signs of hypoglycemia, such as pale gums and lethargy. If you suspect that your shorkie is hypoglycemic, give them a small amount of maple syrup or honey by letting them lick it up or rub it on their gums. If your pet's symptoms don't resolve quickly, call your veterinarian for care or seek emergency veterinary care.