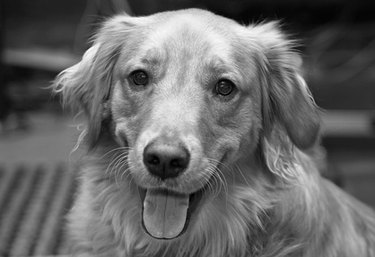 Service dogs who accompany their owners to comfort people in hospitals, retirement homes, schools, mental institutions, nursing homes and disaster areas are called therapy dogs. These dogs must be approved by these institutions, which often have strict dog-visitation policies.
Requirements
Many hospitals, concerned with liability, safety and infection control, may require certification or registration, as well as liability insurance provided by such organizations as Therapy Dogs International or The Delta Society. Most will require that your dog pass the American Kennel Club's Canine Good Citizen (CGC) Test, which defines what the AKC considers a well-behaved dog. Some places such as nursing homes and senior centers welcome visits from those with well-behaved pets without proof of testing.
Canine Good Citizen Program
The AKC's Canine Good Citizen Program offers a 10-point certification test that stresses good manners for dogs and responsible pet ownership. Dogs who pass the 10-step CGC test receive a certificate from the American Kennel Club. The 10 points are awarded for accepting friendly strangers; sitting politely for petting; appearance and grooming; walking on a loose leash; walking through a crowd; sitting down and staying in place on command; coming when called; good reaction to another dog; good reaction to distractions; and supervised separation. All dogs, purebred or mixed breed, old enough to have received the necessary immunizations may take the test. Owners sign the Responsible Dog Owners Pledge stating their dog is under the routine care of a veterinarian.
Therapy Dogs International
While the AKC does not certify dogs, groups such as Therapy Dogs International (TDI) does. TDI is an organization that regulates, tests and registers therapy dogs and their volunteer owners for the purpose of visiting nursing homes, hospitals, schools and wherever therapy dogs are needed. TDI registers all breeds of dogs 1 year old and over with proper immunizations. Handlers under 18 must have a parent or guardian present.
Certification Requirements
Therapy Dog International certification requirements include the 10 points from the AKC's Canine Good Citizen Program and four additional tests. The dogs are tested for positive reaction to medical equipment such as wheelchairs, crutches, canes and walkers; response to the "leave it " command to ignore food placed nearby; acclimation to infirmities, demonstrating confidence when exposed to people breathing heavily, coughing, walking unsteadily and other distractions; responding positively to the "say hello" command, showing willingness to meet, be petted or held by a stranger; and finally, a non-aggressive, friendly reaction to children .
Delta Society's Pet Partners
The Delta Society's Pet Partners program screens, trains and registers volunteers and their domesticated pets (dogs, cats, rabbits, goats, horses, miniature pigs, birds, etc.) for visitation programs in schools, hospitals, nursing homes and other health care centers. Training is provided through hands-on workshops taught by Delta Society-licensed instructors or through a home-study course. After training, the pets are evaluated by Delta instructors to determine if they are controllable, reliable and predictable, with good manners in public places and the social skills to visit strangers. Delta's national network links volunteer teams with facilities in their own communities that request visiting pets.