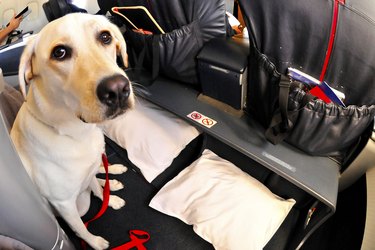 The Americans with Disabilities Act requires no special identification for assistive animals, but California requires all dogs accompanying their owner as assistance dogs to have a dog license and rabies vaccinations. California business owners may only ask you if your dog is a service animal and what special duties the dog performs.
California State Registration Requirements
When you've had your dog for 30 days, you can register him as a service animal in California. Start by getting a letter from your doctor. The letter must state that you have a disability -- the doctor doesn't need to elaborate about what kind -- and that you need the services of an assistive animal. Bring this letter and proof of your dog's rabies shot and his spay or neuter procedure. You'll need to show photo identification and sign an affidavit that certifies your dog has received training to assist you. You do not need a training certificate.
Bring a Note From Your Doctor
Various websites offer ID tags and documentation if you'll send in a photo of your dog and a payment. Obtaining certification does not guarantee that your dog's service animal status will not be questioned. The sole documentation that proves your dog meets national and California state requirements for a service animal is a doctor's letter stating you need a service animal. As with the letter to get California state certification, the letter does not need to state your specific disability.