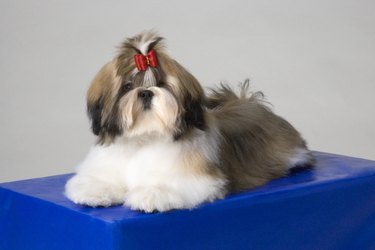 With bows, barrettes, and clips in every color of the rainbow, what's more fun when it comes to dog hair than Shih Tzu haircut styles? Shih Tzu grooming styles showcase the adorably playful nature of this special toy breed as she romps and rolls around. This dog knows she's pretty, and learning the various Shih Tzu cuts are key for keeping her coat in tip-top shape. Fighting tangles, matting, and debris that can get caught in these locks is a regular task for Shih Tzu owners. With practice and patience plus some quality grooming tools, you'll keep you pet's double coat looking swell.
The long, luxurious coats you see on dogs who compete on television are gorgeous to behold, but keeping them clean and knot-free is a challenge. If you're not entering your pup to win prizes, a puppy cut or a Shih Tzu lion haircut is probably your best bet. A puppy cut is a basic trim that leaves your pet with an even-length coat all around the body. This one is easy to maintain, as you'll just need to keep up on the trimming so it's not overly long in certain places.
The Shih Tzu lion cut, on the other hand, is just what it sounds like — an even cut all around with longer locks at the face to mimic a lion's mane. This lionlike look also makes sense for this tiny breed since the words "Shih Tzu" actually mean "little lion" in Chinese. As for shaving your dog, professional groomers advise against it, especially for a double-coated dog like this particular breed. When the fur is cut to the skin, the risk of sunburn and even skin cancer can increase.
Gaining trust with your Shih Tzu
Diving into Shih Tzu haircut styles isn't always easy for a new pet owner. The truth is that some dogs are afraid of approaching scissors and brushes, as they may have had a bad experience at a groomer in the past.
If this is the case with your pup, consider trying husbandry training. This smart method uses positive reinforcement to teach your animal to relax and become familiar with certain types of touch, like those used during the grooming process. To try it, arrange a tasty treat that your dog loves close by and when he starts to enjoy it, gently touch him and introduce a brush or comb. If he backs away from you and the treat, that's fine — let him return to both when he's ready.
If you find that you can't get your dog to settle down even with high-value treats and lots of practice, it might be time to head to a professional groomer. You might also consider engaging a dog trainer too, especially if your pup tends to growl or snap when you try to detangle her coat. Getting your dog to behave is an important aspect of socialization, and she needs to learn that biting and other aggressive behavior isn't allowed.
If your dog has a particularly matted coat or has rolled in something super funky, a professional groomer can smooth your pup's fur and offer a deodorizing bath to fight the smell. Keep an eye on your dog's ears, eyes, and skin as you bathe and groom since these areas are an indication of your pup's overall health. Any scratching, chewing, or signs of inflammation that you spy should be brought to the attention of your pet's vet. These issues could be the reason your dog isn't keen to be touched, and once they're diagnosed and treated, the grooming process may well improve.