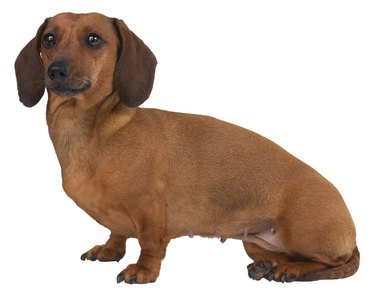 Dachshunds are intelligent, loyal dogs who love to please their owners and are full of personality. Perhaps it is these traits that make this breed so popular in the dog world and provide incentive to breed a dachshund. How do you know if your dachshund's mating session was successful? While it can be a bit difficult to determine, there are a few signs that your "doxie" will display when she is in the family way.
Swollen Nipples
About two weeks after your dachshund has conceived, her nipples will likely become enlarged. A dachshund who is not pregnant is typically flat on her chest and abdomen and has small nipples. An expecting doxie will start to develop swelling around the nipple area in preparation for the process of milk production.
Decreased Appetite
Dachshunds who are pregnant are likely to eat less in the beginning stages of their pregnancies. This is probably due to hormones creating a queasy stomach. As she progresses into the later stages of pregnancy, her appetite should increase and should be met with high-quality food.
Lack of Energy
Dachshunds aren't typically the types of dogs who want to go jogging or compete in agility trials to begin with. Add pregnancy to the mix, and you've got a dachshund who barely wants to get off of the couch. Dachshunds are generally exhausted in the early stages of pregnancy due to changes in their hormonal levels that help with embryo production.
Distended Stomach
As your dachshund's pregnancy progresses, her stomach will become distended due to the puppies that are growing inside. The growth of her abdomen depends on the size and number of puppies. To be sure that her distended stomach is due to pregnancy and not another medical condition, such as bloat, take her to her veterinarian for an examination. The doctor may be able to diagnose a pregnancy by simply palpating the stomach. In addition, ultrasounds, radiographs and blood tests can be performed to definitively diagnose a pregnancy. If you are suspicious your doxie is expecting, take her to her vet for a physical to ensure that she is healthy enough to carry the puppies.
Always check with your veterinarian before changing your pet's diet, medication, or physical activity routines. This information is not a substitute for a vet's opinion.