Lorikeets can be high-maintenance pets with very specific dietary requirements and attention needs at each stage of a life span extending up to 20 years. You can determine the age of a lorikeet through careful observation when the bird is a juvenile, but there is no way to know the correct age of an adult without knowing when the bird hatched.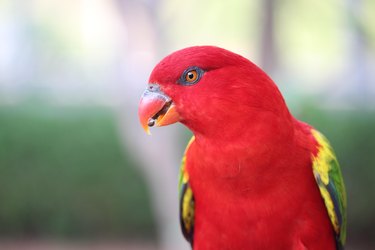 Some breeders use leg bands that include the bird's birth year in the information, making it easy to tell the age of a rainbow pet bird. The year is usually two vertical digits, and the other information on the band is printed horizontally. The band can also tell whether your bird is a male or female, as female birds are banded on the left leg and males on the right. However, there are no specific laws in the United States that require the banding of lorikeets to specify the year of birth. As bird breeders usually buy bands in bulk, it's possible that your lorikeet's leg band could be from the previous year or even a few years ago.
Register your bird with an exotic bird registry so that if your bird is lost or stolen, you can prove the date you registered your bird. Although your bird's date of birth won't be recorded, you might be able to get a better idea of your lorikeet's age by when the band was previously registered.
If your bird doesn't have a leg band, your vet can scan for a microchip. Unlike dogs and cats, bird microchips are implanted in the pectoral muscle. Contact the microchip company to register your lorikeet and you might be able to gain insight on how many years have passed since it was last registered.
Rainbow lorikeet with a black beak is a juvenile
Adult lorikeets have orange beaks, and juvenile birds hatch with black beaks. Newly hatched lorikeets are naked, with wisps of white down and closed eyes. Your juvenile lorikeet's eyes will open by the time it's 2 weeks old. By 20 days, that wispy white down has turned gray and is covering the body.
Feathers begin to emerge, and a chick will be nearly covered with juvenile feathers by the time it is 40 days old. At what age do rainbow lorikeets fly? A 2-month-old lorikeet will have fully developed flight feathers and will start trying his wings. He will be able to fly as soon as he develops the strength in his wings to lift his entire body into the air.
A rainbow lorikeet fledgling has coloration much like his parents, but his plumage isn't as brilliant. The young lorikeet will be in full adult plumage by 1 year old, and the beak will have gradually changed to bright orange by that time.
Other clues to lorikeet age
Even though your lorikeet will have feathers just like her parents by a year old, she won't be ready to breed until she's 18 to 24 months old. Birds who aren't yet sexually mature have pale eye rings that will turn bright blue once they're fully developed and ready to breed.
Sexual behavior is also a good clue to detect when your lorikeet is coming of age. Sex hormones will cause your bird to exhibit pre-nesting behavior, such as increased shredding or chewing. Female birds might crouch down when you pet them on the neck and shoulders in a mating response. Males can become more aggressive and bite.
By the time a lorikeet is fully mature, it becomes pretty much impossible to pin down his exact age. Lorikeets don't develop external signs of aging as people do, such as going gray. The iris of the eye might appear to fade in color, but your bird will otherwise look the same as usual as he enters his senior years. A bird's activity level might decline, and he may vocalize less as he gets older.
An exam by your veterinarian can provide clues to when your lorikeet is entering his twilight years. Birds sometimes gain or lose weight as their metabolism changes with age. Senior birds are more prone to health issues, like arthritis, cataracts, or diseases of the organs. Although your vet can guess at your bird's age, even DNA testing won't offer any additional clues.