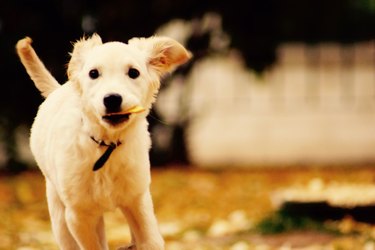 If you are wondering how to tell what breed your dog is, looking at his paperwork and pedigree is the easiest way to find out. If you buy a dog from a reputable and responsible breeder, this documentation should be provided at purchase. Things can become more challenging when you adopt a dog. If you are wondering if your adopted pet or older dog is purebred, there are some other ways you may be able to find out.
If you are wondering how to tell if a dog is purebred without papers, you aren't necessarily out of luck. For example, if you believe a rescue dog could be a purebred, a veterinarian may be able to help you figure out what type of canine you have. From ear shape to coat texture and body size, an exam of your dog's physical traits compared against breed standards can provide hints at a dog's breed. Dog DNA tests can also help you figure out what breed or breeds your pet is and whether he is a purebred dog.
Dogs whose relatives are all the same breed are considered purebred dogs. These dogs meet a breed standard, with specific characteristic combinations that only their specific breed have. These standards will not necessarily be met in full, but a purebred dog will have many of the traits of the standard. Some breeds may have small differences, while some breeders or dog owners are purists who seek canines with only very specific traits.
The American Kennel Club founded the breed standard, and each type of dog has a different number of requirements to meet. If you do not have physical proof that your dog is a purebred, you can go over the list of traits for the type of dog you think you have to help determine whether she is purebred.
Obtaining pedigree documents
When you first get your dog, if the pet is being sold to you as purebred, pedigree documents should be provided. If you did not receive them, you should reach out to your dog's breeder to obtain paperwork. Pedigree shows you at least three generations along dog's family tree and gives you information on whether your dog is out-cross, line-bred, or inbred. This can help you determine your dog's breed as well as potential health issues that may come up in the future.
For dogs participating in dog shows or if you want an official physical certificate of proof, the American Kennel Club offers physical certificates of pedigree. Also, if you're curious more about your purebred dog's lineage, a research pedigree can give you more extensive background on your dog's family tree. Through applying for this certification, you see up to five generations of your dog's ancestry.
Whether or not your dog is purebred, it can be fun to find out exactly what breed he is. Like DNA tests taken by people, dog DNA tests can help determine what breeds your dog is made of. This type of test is especially helpful if you do not have much background on your pet's breed. Regardless of the size of his lineage, testing can help determine if your dog is just one breed or mixed, which can also help you figure out whether he is potentially purebred.
Dog DNA tests are not just for fun, however. These tests can give you background on potential health issues your pet may face or help you to look for cell abnormalities. For purebred dogs, these tests provide a high rate of accuracy, though some DNA abnormalities between two sets of purebred DNA from your pup's parents can impact the results. With mutts, you can still find out what kind of dog you have through a DNA test, but veterinarians recommend taking multiple tests to narrow down possible breeds.