The breed of that lovable mutt you just adopted from the shelter might not matter to you. After all, you fell in love with your forever friend. However, dog mixes that look like pit bulls could make you subject to breed-specific regulations that could impact your travel plans or living arrangements.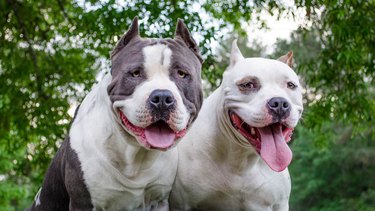 There is no specific pitbull breed recognized in the U.S. per the American Kennel Club. Internationally, a breed known as the American Pit Bull is recognized by the international United Kennel Club.
However, the term "pitbull" is used loosely to describe dogs with physical similarities to breeds descending from bull-baiting dogs bred in 1800s England — such as the Staffordshire Bull Terrier and the American Staffordshire Terrier. However, more than 20 breeds and many more mixes share these qualities according to PitbullInfo.org.
Any dog that has characteristics similar to any of these breeds is commonly referred to as a pit bull. In more than 700 cities across the U.S., breed-specific legislation targets dogs that exhibit characteristics of pit bulls — and other breeds legislators deem to be more dangerous than average.
Each city with breed restrictions usually lists Staffordshire breeds as prohibited pit bull terriers. In addition, cities might restrict pitbull mix breeds that have physical similarities. The city of San Francisco, for example, lists eight physical traits and bans any dog that has five or more.
According to the AKC, these bully breeds are traditionally good with children and make lovable family pets when raised responsibly. However, breed legislation doesn't take into consideration how well trained your potential pittie is, only their physical attributes.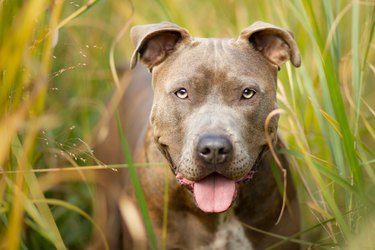 It's a myth that pitbull mix breeds bite with a force of 1,600 pounds and lock their jaw. Bite force in dogs tops out at 1,394 newtons — 313 pound-force — according to a 2018 study published in Frontiers of Veterinary Science.
The study concluded that, "The main factors affecting the bite forces in dogs and cats are body weight and the skull's morphology and size." That means that dogs with big, wide heads such as pit bull types are going to be able to bite down harder than lighter breeds with narrower heads, such as poodles.
Pitbulls have wide heads. Of the three types of dog heads, the brachycephalic head type has the most bite force according to the study, due to a shorter out-lever arm on the mandible. However, this trait alone does not make your dog a pitbull mix breed. According to the Humane Society Veterinary Medical Association, 24 breeds share this trait including popular lapdogs like Lhasa Apsos, Cavalier King Charles spaniels, and Shih Tzus. San Francisco Animal Care and Control dispels the myth that pit bulls can lock their jaws.
Other head features that might help you identify dog mixes that look like pit bulls include round to almond-shaped eyes, a broad muzzle, and ears set high on the top of the head. Most often, the ears are held at half-prick but could be held against the head in the "rose" shape or standing at full prick.
Dog mixes that look like pit bulls are noticeably muscular from their thick necks to their stocky hindquarters. Part of the reason that these dogs appear so strong is that they are covered with very short hair that lies close to the body. Look for a broad chest and shoulders, a tail that is thick at the base but tapers to a point, and a wide, muscular body that tucks up at the loins.
The muscular dogs need companion humans dedicated to helping them get the regular aerobic exercise and energetic activity required. San Francisco Animal Care and Control requires people wishing to adopt a pit bull to pass and commit to Proactive Guardian Requirements for Higher Risk Dogs that include training and sufficient exercise to prevent problem behaviors, including aggression.
The personality of the pitbull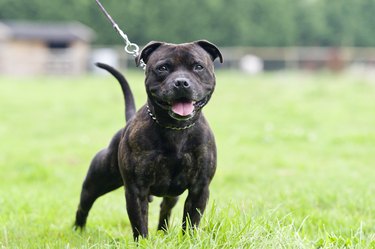 Far from being vicious blood-thirsty predators, pitbulls are usually so affable and loving that they don't naturally make good watchdogs, according to San Francisco Animal Care and Control. Their friendliness and high level of intelligence have made them popular as family pets and nannies since the 1800s as well as being favored as service animals and rescue dogs.
Properly socialized pitbulls are eager to please. They are easily trained in the same manner as any other dog using humane equipment and positive reinforcement. Prong collars and other aversive training are unnecessary according to San Francisco Animal Care and Control.
The San Francisco agency requires those adopting dogs that look like pit bulls to participate in their Proactive Guardian Requirements. This includes being familiar with the stigma that exists around strong, well-muscled breeds, having previous experience with powerfully-built dogs, and enroll in a positive-reinforcement training class with their new pet.