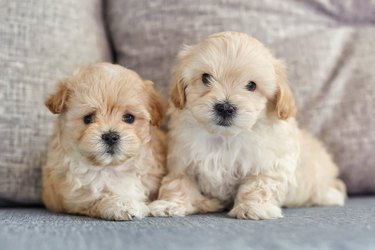 The American Kennel Club only recognizes one Maltese dog breed. Maltese dogs are affectionate companions easily recognizable by their flowing, floor-length coat. While there is only one Maltese, there are some breeds that are related to the Maltese and others that boast a similar appearance. Malteses mixes are also popular among many dog owners.
Maltese dogs are an ancient breed originating in Malta before the rise of Greece. The dog is well represented throughout Greek and Roman history. The breed was formerly known as the Maltese lion dog.
How big do Maltese dogs get? The Maltese is a small breed growing just 7 to 9 inches tall and weighing no more than 7 pounds. They have a long, silky coat. There aren't multiple colors of Maltese. The breed standard only recognizes white dogs. The Maltese have a compact body that is as long as it is tall. The dogs carry their head high and their tail curling up over the back.
Described as charming, gentle, and playful, they are an ideal companion and lapdog. They have a medium energy level and do well with short, daily walks or play sessions in the yard, making them an ideal dog for apartments and small homes.
There may be only one Maltese dog breed, but there are other breeds that are believed to have descended from the Maltese. These include the bichon frise, Bolognese, and Havanese breeds. The bichon frise is also a small white dog. They are a bit bigger than the Maltese, growing 9.5 to 11.5 inches tall and weighing 12 to 18 pounds. Rather than long, silky hair, the bichon has a curly double coat.
The Bolognese originated in Italy. They grow 10 to 12 inches tall and weigh 6 to 10 pounds. They also have long, silky white hair, but the hair has a wave that makes them appear fluffy rather than sleek like the Maltese.
Havanese are small dogs growing 8.5 to 11.5 inches tall and weighing 7 to 13 pounds. Like the Maltese, these dogs have long, silky hair, but they have a double coat that can come in many different colors, including white, black, chocolate, fawn, and red.
Maltese dog similar breeds
The coton de Tulear is another small, long-haired white dog who can appear quite similar to the Maltese. However, the coton de Tulear is larger, growing 9 to 11 inches tall and weighing 8 to 13 pounds. These dogs also have a thicker double coat, and their fur is wavy instead of straight. The tail may curl over the back while the dog is moving, but it is in a downward position when the dog is resting.
The Lowchen, or little lion, is a German breed. They are larger than the Maltese, growing 12 to 15 inches tall and weighing 15 pounds. They come in a wide range of colors, including white, silver, red, fawn, chocolate, and black. Their coat and body shape are very similar to the Maltese. They have a compact body, a high head carriage, and a plumed tail that curls over the back.
Mixed Maltese dog breeds are quite popular and incorporate the traits of the Maltese and other breeds. The Maltipoo is a well-known mix that is a cross between a Maltese and a poodle. Some other examples include the Malchi, a Maltese and Chihuahua mix; the Morkie, a Maltese and Yorkshire terrier mix; and the Malteagle, a Maltese and beagle mix.