Crayfish are freshwater crustaceans who are often kept as aquatic pets. Crayfish enjoy eating many vegetables, including spinach, lettuce, zucchini, peas, and carrots. You can also feed your crayfish things like algae, java moss, shrimp, and dried squid.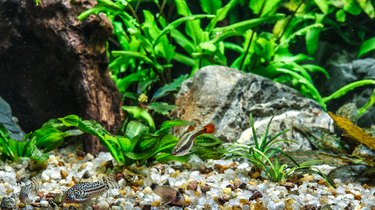 What do crayfish eat in the wild?
You can find crayfish in the wild in streams and swamps. Wild crayfish can live for 20 to 30 years. They are more active at night. Crayfish are omnivores, so they eat both animals and plants. They normally eat plants and other animals that are either the same size as them or smaller. In the wild, crayfish eat just about anything but usually decaying animals and plant matter.
What to feed pet crayfish species
In captivity, crayfish eat the algae from their aquarium. Give them live plants to eat, such as java moss and hornwort. Commercial crayfish food or fish food is also a good choice because it is specifically designed to meet your crayfishs' nutritional needs.
In addition to plants, you can feed your crayfish small shrimp and fish from time to time. Crayfish will also enjoy shrimp pellets, dried seaweed, dried squid, and bloodworms. These items can be purchased at a pet store, an aquatic store, or online.
Give your crayfish small pieces of rotten lettuce leaves or spinach leaves if you want to feed the crayfish vegetables. These leaves will replicate the decaying plant matter that crayfish eat in the wild. Frozen peas, zucchini, and carrots are also a good fit.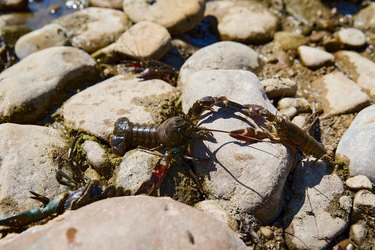 There is more that goes into caring for pet crayfish beyond just their diet. The first step is making sure you have the right habitat. Most crayfish need a freshwater aquarium with the lid tightly closed so they don't get out. They cannot live with other types of freshwater fish because they will fight or even eat the other fish.
Add pebbles or sand on the bottom of the aquarium as well as plants and structures for your crayfish to explore. You will also need a filtering system to clean the aquarium. If you are not sure what to buy, ask your local pet store's employees about the types of crayfish for aquariums.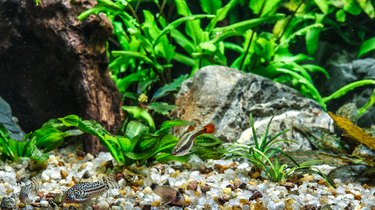 Crayfish are affordable pets who are fairly easy to take care of. They won't need to go to the vet, and they don't need any specialized care. However, it is essential to make sure you are providing proper food and shelter. If you do have questions about your crayfish's behavior, ask an aquatic vet to make sure your crayfish are healthy. Loss of appetite or a fungus on the body can be red flags that something is going on.
It is best not to handle your crayfish unless absolutely necessary. If you do need to pick them up, hold them behind the pincers and place them directly into a holding container. It is better to interact with your crayfish from outside their environment, such as watching through the aquarium glass or dipping a tree branch into the water for them to follow.