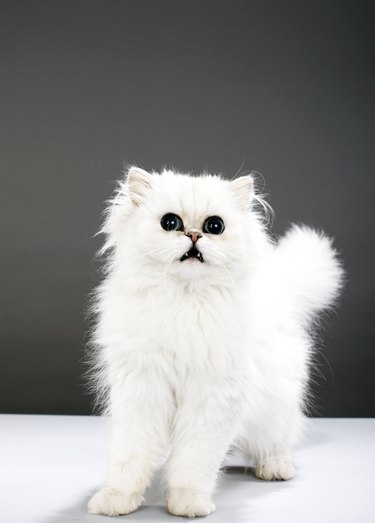 Cats with white fur can become soiled more easily, especially if you allow it outdoors. Dirt in the fur gives the cat a dusty, unclean appearance. White fur also stains easily when exposed to urine, feces, food and skin oils. To keep your cat looking its best, especially for a show or photo session, you need to clean and whiten your cat's fur.
Bathing
Cats with an all-white coat, or with large patches of white, require more frequent bathing than those with darker coats. Wash your cat once or twice a month to keep its fur free of dirt and debris. To bathe a white cat, use a special pet shampoo designed for white coats. These shampoos contain chemicals, such as bluing agents, which optically brighten the coat and remove dirt. When bathing, do not let the blue-based shampoo sit on the cat's fur for more than a few minutes. This can dull the coat, according to the Cat Fancier's Association Persian Breed Council.
Stains
White fur stains easily and sometimes bathing does not remove these stains. To remove a set-in stain on your cat's white fur, use a damp microfiber cloth to wipe away the offending substance, such as food or urine. Make a paste of cornstarch and 3 percent hydrogen peroxide and place it on the stain, working it into the coat with a human toothbrush. Allow the paste to sit for 15 minutes, then brush it out of the fur with a slicker brush and rinse the area with warm water. This will bleach the stain away and whiten the fur. Remove eye stains with specialty wipes containing boric acid; these can be found at pet supply stores.
Maintenance
Between baths, brush your white cat's coat daily to remove any dust or dirt from the fur and prevent matting and stains. Use pet bathing wipes, found in pet stores, or a damp microfiber cloth, to gently wipe down the fur after brushing. Sprinkle cornstarch powder or baking soda on the coat and massage it into the fur with your fingers. Brush out the powder with a natural bristle brush. The powder naturally gives the fur a whiter appearance and absorbs oils and odors on the coat, making it appear clean.
Prevention
To prevent your white cat from becoming dirty, keep it indoors. Scoop its litter box once or twice each day so that its fur is not exposed to urine-soaked litter in the cat box, which can stain its coat and feet. After feeding your cat, wipe its mouth with a damp microfiber cloth to remove potentially staining substances. Avoid feeding the cat food made with red dyes, which can stain its fur. For persistent eye stains, see a veterinarian, as this can indicate an eye infection.