Dogs descended from wolves, and in fact, they are technically the same species. Domestic dogs can even breed with wild wolves, resulting in a wolf-dog hybrid. However, years of domestication have resulted in dogs being dissimilar to wolves in many ways, particularly when it comes to their teeth and digestive system.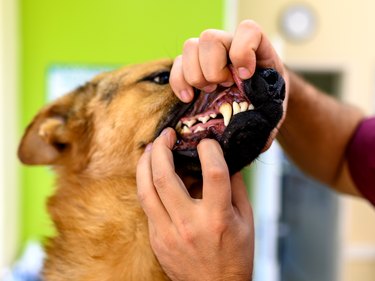 Both dogs and wolves have 42 teeth as adults; however, wolf teeth tend to be longer and thicker than those of similar-size dog breeds. A wolf's fangs can exceed 2 inches in length, helping the animal to secure a hold on its prey. A wolf's existence depends on having oral equipment suited to the task of taking down deer, elk, and other large prey.
By contrast, centuries of domestication and the eating of pet food have reduced the need for dogs to have large teeth with which to hold and tear into moving prey. Where only successful hunters survive in the wolf species, dogs have enjoyed being served human-prepared food for centuries.
Unlike natural selection, large teeth weren't top priority for domestic dog breeders. Dogs were initially bred to perform certain tasks, such as tracking, retrieving, herding, and guarding. Factors such as a consistent overall appearance, trainability, disposition, and coat type took priority over tooth size since the animals relied on humans for their sustenance.
The canine teeth or fangs aren't the only teeth in a wolf's mouth that tend to be larger than a dog's. Although both dogs and wolves have carnassial teeth — the fourth pre-molar that is a pointy triangular shape — wolves' are larger and sharper than a dog's. The teeth come in handy for cracking into the bones of their prey to access nutrient-rich marrow.
The molars behind the carnassial teeth are used for shredding the meat prior to swallowing. These tend to be more developed in wolves than in dogs, who use the teeth for crunching their kibble. Both wolves and dogs have incisors across the front of their mouth for tearing meat from the bone and premolars that are used for shredding.
With wolves' diets so different from dogs, it's no wonder that their teeth are larger and stronger. Not only do they have to hunt and break down their own meat but they eat more at a time than dogs. Although wolves will eat some plant material, such as berries, they are primarily carnivores.
A domestic dog might be served a cup or two of food during the course of the day. Wolves, however, can go days between meals. Once they successfully take down prey, they might gorge themselves with as much as 20 pounds of meat, making it vital for big strong teeth to shred all that food efficiently.
A modern dog trying to eat a wolf's diet would likely get ill with diarrhea from the high protein content. Raw protein foods are some of the most typical allergens for dogs, who have 10 key genetic differences when it comes to digestion. Conversely, a wolf eating dog kibble would quickly experience nutritional deficiency and might have an allergy to the grains. If you plan to adopt a wolf-dog hybrid, plan to feed him a balanced, raw diet or grain-free kibble depending on the dog's wolf content.
Tooth health: dogs vs. wolves
Wolves are less prone to dental disease and tooth breakage than domestic dogs, even though they can produce a bite force of 1,500 pounds per square inch compared to a mastiff's 550 pounds per square inch. Humans have a bite force of approximately 120 pounds.
Although full-grown wolves have 42 teeth, not all dogs have that many. Large, wolflike breeds, such as husky wolf breeds and German shepherds, have 42 teeth and a similar scissor bite. However, bracycephalic breeds, such as bulldogs and pugs, can have fewer due to crowding because of their jaw shape and undershot bite.